By Guest Blogger Josh Bowen
You're going to do it. You know you're going to do it. Hell, I'm going to do it! Yeah, I'm going ALL IN on Thanksgiving. Most of America will. However, you don't have to deep fry your turkey or use four packs of butter in your "mashed taters" to have a great, tasty Thanksgiving.
Here are some healthy alternatives to help make your Thanksgiving a Healthsgiving:
Sweet Potato-Pecan Casserole
Ingredients
Cooking spray
3 1/2 pounds sweet potatoes (about 5 medium), peeled and cut into 1-inch chunks
1/3 cup honey
1 large egg
1 teaspoon ground cinnamon
1/4 teaspoon ground nutmeg
1/8 teaspoon ground ginger
Kosher salt
1 tablespoon packed dark brown sugar
1/3 cup finely chopped pecans
Directions:
Preheat the oven to 350 degrees F. Mist an 8-inch square baking dish with cooking spray.
Bring a few inches of water to a boil in a pot with a large steamer basket in place. Put the sweet potatoes in the basket, cover and steam until tender, 20 to 25 minutes. Transfer the potatoes to a bowl and let cool slightly. Add the honey, egg, 1/2 teaspoon cinnamon, the nutmeg, ginger and 1/2 teaspoon salt; whip with an electric mixer until smooth. Spread the sweet potato mixture in the prepared baking dish.
Mix the brown sugar, pecans and the remaining 1/2 teaspoon cinnamon in a bowl; sprinkle over the potatoes. Bake until hot and beginning to brown around the edges, 40 to 45 minutes.
Per serving: Calories 160; Fat 4 g (Saturated 1 g); Cholesterol 25 mg; Sodium 180 mg; Carbohydrate 31 g; Fiber 3 g; Protein 3 g
Lemon-Garlic Roast Turkey and White-Wine Gravy
Ingredients
10 cloves garlic, divided
1/2 cup lemon juice
1/2 cup Worcestershire sauce
1/2 cup kosher salt
1 12-pound natural or organic turkey,  (see Shopping Tip)
1/4 cup freshly grated lemon zest
1/4 cup packed fresh oregano leaves
2 tablespoons canola oil
1/2 teaspoon freshly ground pepper
3 tablespoons all-purpose flour
1/2 cup dry white wine, or dry vermouth
1 14-ounce can reduced-sodium chicken broth
Preparation
Crush 6 cloves garlic and add to a very large stockpot (or clean bucket). Stir in lemon juice, Worcestershire, salt and 4 quarts cold water.
Remove giblets from turkey (if included) and trim excess skin. Submerge the turkey in the brine and refrigerate for 24 hours. If the turkey is not fully submerged, turn it every 8 hours.
Nutrition
Per serving: 180 calories; 6 g fat (2 g sat, 2 g mono), 66 mg cholesterol; 2 g carbohydrates; 0 g added sugars; 26 g protein; 0 g fiber;120 mg sodium; 273 mg potassium.
Nutrition Bonus: Zinc (19% daily value).
Remove the turkey from the brine, rinse well and pat dry. Discard the brine.
Preheat oven to 350°F.
Place the remaining 4 cloves garlic, lemon zest, oregano, oil, pepper and 2 tablespoons water in a food processor and pulse until it becomes a paste. (Alternatively, chop garlic, lemon zest and oregano on a cutting board until finely minced, then place in a small bowl and stir in oil, pepper and water.) Loosen the skin over the breast and thigh meat. Rub the paste all over the turkey, under the skin onto the breast meat and leg meat and a little inside the cavity. Tuck the wing tips under the turkey. Tie the legs together with kitchen string. Place the turkey breast-side down in a roasting rack set in a large roasting pan.
Roast the turkey for 1 hour. Turn it breast-side up on the rack, add 1 cup water to the pan, and continue roasting 1 hour more. Baste the turkey with pan drippings, tent with foil and continue roasting, basting every 15 minutes, until an instant-read thermometer inserted into the thickest part of the thigh without touching bone registers 165°F, 30 to 45 minutes more.
Transfer the turkey to a large cutting board; let rest for 20 minutes before removing the string and carving.
Meanwhile, pour any pan juices and fat into a large glass measuring cup and place in the freezer until the fat rises to the top, about 10 minutes. (Alternatively, pour the pan juices and fat into a fat separator then pour the defatted juices into a large measuring cup.) Whisk flour with 1/4 cup water in a small bowl.
Set the roasting pan over two burners on medium heat. Add wine (or vermouth); bring to a simmer, scraping up any browned bits. Continue cooking until reduced, about 3 minutes.
10. Remove the pan juices from the freezer, skim off the fat with a spoon and discard. Add the defatted juices and broth to the roasting pan; return to a simmer, whisking often. Cook for 1 minute, then whisk in the flour mixture and simmer until thickened, 1 to 2 minutes. Pour the gravy through a fine-mesh sieve and serve with the turkey.
Pumpkin Coconut Tart
Ingredients
Crust
1 1/4 cups white whole-wheat flour,  (see Ingredient Note)
1/2 cup slivered almonds, toasted  (see Tip)
1 tablespoon sugar
1/2 teaspoon salt
4 tablespoons cold unsalted butter, cut into small pieces
4 tablespoons cold reduced-fat cream cheese,  (Neufchâtel)
Filling
1 1/2 cups canned unseasoned pumpkin puree
3/4 cup sugar
2 tablespoons dark rum
1 teaspoon ground cinnamon
1/4 teaspoon ground ginger
1/4 teaspoon ground cloves
3 large eggs
1 cup "lite" coconut milk
Garnish
1/3 cup unsweetened coconut chips,  (see Ingredient Note) or flaked coconut, toasted  (optional)
Preparation
Preheat oven to 350°F. Coat an 11-inch round or 8-by-12-inch rectangular removable-bottom tart pan with cooking spray.
To prepare crust: Combine flour, almonds, 1 tablespoon sugar and salt in a food processor; process until the almonds are finely ground. Add butter one piece at a time, and then cream cheese by the tablespoonful, pulsing once or twice after each addition, until incorporated. Turn the dough out into the prepared pan (it will be crumbly), spread evenly and press firmly into the bottom and all the way up the sides to form a crust.
Bake the crust until set but not browned, about 15 minutes. Let cool on a wire rack.
To prepare filling: Beat pumpkin, 3/4 cup sugar, rum, cinnamon, ginger and cloves in a large bowl with an electric mixer on low speed until blended. Beat in eggs, one at a time, until combined. Beat in coconut milk. Place the tart pan on a baking sheet and pour in the filling.
Bake the tart until the filling is just set (the center may still appear soft, but will become more solid as it cools), 45 to 50 minutes. Transfer to a wire rack and let cool to room temperature. Serve room temperature or refrigerate until chilled. Remove the pan sides before slicing. Garnish with coconut, if desired.
Nutrition
Per serving: 260 calories; 12 g fat (6 g sat, 3 g mono); 80 mg cholesterol; 33 g carbohydrates; 6 g protein; 3 g fiber;168 mg sodium; 163 mg potassium.
Wishing you all a Happy and Healthy Thanksgiving!
—
About Josh Bowen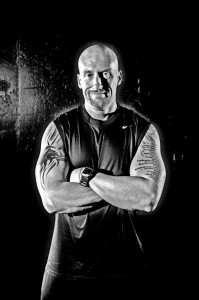 Josh "JB" Bowen is a personal trainer, educator and presenter. Previously the Quality Control Director of Personal Training for Urban Active Fitness, in charge of 500 trainers in 36 clubs in 7 states, he is currently an independent contractor at Fitness Plus II in Lexington, KY and acts as a the Quality Control Director of Personal Training for Compel Fitness. He holds a bachelor's degree in Exercise Science from the University of Kentucky and has held 16 nationally recognized certifications.
To learn more about Josh Bowen, visit his website, blog, Facebook and Twitter @JBTrainer.
—
To my American friends south of the border, wishing you all a very Happy Turkey Day!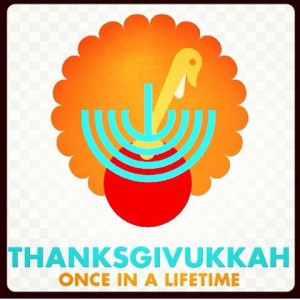 So…. Happy Thanksgiving! Happy Chanukah! Happy Everything! Love and light to you.