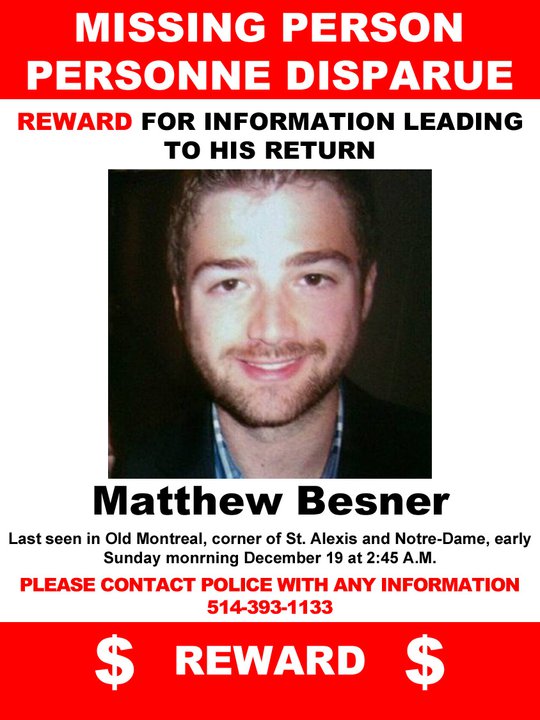 I am sure most of you by now have read or heard about the young man, Matthew Besner, 27, who went missing early Sunday morning. Because I am a Montreal Blogger, I have been asked to post this in hopes Matthew will be found safe and unharmed. Matthew Besner was eating at a restaurant on St. Alexis St., near Notre Dame St., in Montreal on Saturday evening when he went out for a cigarette. He never returned to the table.
Besner was wearing a black Canada goose coat when he disappeared, along with a black long-sleeved shirt and blue jeans. He is described as 5-foot-9 and 189 pounds, with light brown hair and brown eyes.
I just left the gym, where his cousin was putting up posters everywhere. Our community is frantically looking for this boy, who is described as someone who would not typically walk out on family and friends without warning.
"Besner was last seen at L'Orignal, a restaurant in Old Montreal on St. Alexis St., near the corner of Notre Dame St. W. He was there to celebrate a friend's birthday and he had stepped out to get a breath of fresh air as his group of friends was preparing to leave. Victoria Liverman (Besner's cousin) said that someone in the group of friends sent Besner a text message, informing him that their ride had arrived. She said he sent the friend a reply, indicating he was still outside the restaurant. But when the group exited L'Orignal, Besner was gone." — Montreal Gazette
Besner does not have a criminal record and is not known to be suffering any mental health problems. There is currently a search underway, 150 volunteers who have been working around the clock scouting Old Montreal with a fine tooth comb. The company where Besner's girlfriend works, Beyond the Rack, has offered a $5,000 reward for information that would lead to locating the young man.
A friend of his has asked me to post the following three things if you are asking how you can help. These are his words, as he stated, in order of importance and efficacy:
Join our search party. The efforts are being coordinated at 60 de Bresoles #302 (corner St Sulpice, #905 to buzz in), so people should feel free to drop by there for more info on how they can best contribute to the search efforts.
Put up the latest versions of the posters, which offer a reward. Post these everywhere from the old port to the west island. We want people to recognize his face. The posters can be found in the Facebook group.
Invite everyone you can to this

Facebook group

, so that we can communicate updates and further instructions on how to help.

I am simply doing my part. This is every parent's worst nightmare. My husband and I could hardly sleep last night. Matthew was on our minds all night.  Matthew's sister is a preschool teacher in the class next to my little son, and when I dropped my son off this morning, the whole preschool was in shock.

Please readers, please pray for the safe return of Matthew Besner.

=========================================================

UPDATE:

MONTREAL – Police have confirmed the body found this morning near the Five Roses Flour mill is that of Matthew Besner, 27. His body was discovered on the shore of the Lachine Canal near Mill St. At a morning news conference, police said there were signs that Besner had crossed from the north side of the canal to the south side of the canal and fell at least twice. It appears Besner was able to get up but fell again. His body showed no signs of violence and nothing was missing from his wallet. Besner had vanished mysteriously Sunday night from outside an Old Montreal restaurant. — (Montreal Gazette)

Dec. 22, 2010 UPDATE: Matthew Besner's final moments were a desperate struggle to survive as he crossed the frozen Lachine Canal and fell through the ice at least twice before collapsing on the shore on the other side, police say. Police said footprints in the snow on the north side of the canal near de la Commune St. indicate that he walked toward the canal, and the broken ice showed he fell through two or three times before making it to the shore. "Once he got to the shore he wasn't able to get up" the slope, Montreal police Constable Daniel Lacoursiere said. "Nothing indicates there was a crime. He was wet; he froze." The body bore no signs of violence and nothing was missing from his wallet, police said. Besner was dressed in the same clothes he wore when he disappeared -a Canada goose jacket, black shirt and jeans. Lacoursiere would not speculate about whether Besner was alone before crossing the canal or what his state of mind might have been. He said police yesterday were not looking into the possibility Besner might have been pushed into the canal. An autopsy should determine the exact cause of death, he added. — (Montreal Gazette)

Dec. 23, 2010 UPDATE: The family of Matthew Besner has viewed security camera video footage showing him in the hours after his friends last saw him early Sunday. In a TV interview with TVA commentator Claude Poirier Thursday morning, a store employee who did not give his name on air said he saw Besner enter his store in the vicinity of Brennan St. not far from Wellington St. between 4:45 a.m. and 5 a.m. Sunday. "He was very confused and asking for directions to get to Verdun," the man told Poirier. There is apparently video of the encounter. The man said he saw Besner, who lived in an apartment on Pine Ave., fall down at least twice and his pants were snow-covered. "It was strange to see," he told Poirier. The store employee later realized Besner was on foot, and not in a car. As the man left his place of work after his shift ended at 5 a.m., he saw Besner walking. "I wish I had picked him up." In an interview with The Gazette Thursday, Joshua Chinks, the brother of Besner's girlfriend – and who was with Besner the night he disappeared – strongly disagreed with the description of Besner as so intoxicated he could not walk straight. He said the family has been working with private investigators and has viewed some of the security video but the footage is not very clear. "Something suspicious happened," Chinks said. "It's not in (Besner's) character to wander off, even if he had been drinking. That doesn't explain why he was walking around Old Montreal for two hours." Besner had nearly $200 in cash on him when he was found, Chinks added. "He could have taken a taxi if he wanted to get somewhere. Why would he go over a six-foot concrete ledge to cross the canal?"  Chinks urged people who have store security video of Besner to come forward and call Montreal police on the Info-Crime line at 514-393-1133. –-(Montreal Gazette)

Dec. 24, 2010 UPDATE: "Something suspicious happened," Joshua Chinks, the brother of Besner's girlfriend, said Thursday, a few hours before Besner's funeral. Chinks was with Besner at the restaurant that night. He strongly denied that Besner, whom he described as his brother-in-law, was so intoxicated that night that he couldn't walk straight. "It's my profession, as an emergency room doctor, to know what people who are drunk or high on drugs look like and act (like)," Chinks said. "This wasn't the case." Besner was drinking, Chinks said, but not enough to cause him to behave unpredictably. Besner received a text message while he was outside and he replied, spelling his answer perfectly, Chinks added. "He knew very clearly that he was waiting for a ride home. His girlfriend was at home and he was in my hands." "So far nothing leads us to believe there was anything criminal here," Lemieux said. "His death was accidental."  Chinks urged police to re-examine the possibility that foul play was involved in Besner's death. "It won't bring Matthew back, but it might explain things," he said. An autopsy on Besner's body has been completed, but results of lab tests will not be known for weeks, possibly until a coroner's report is issued. —(Montreal Gazette)

Feb 18, 2011 UPDATE: Besner had stepped out to get a breath of fresh air as his friends were preparing to leave at about 2:40 a.m. Friends said he took his last beverage at 2 a.m. Coroner Paul Dionne's report states that Besner died from exposure to the cold, and that the body bore no marks of violence. Besner's blood alcohol level came in at 0.26 per cent, over three times the legal driving limit of 0.08 per cent. There were no drugs in his system. The cold weather that night, combined with the amount of alcohol he had consumed, would have severely impaired Besner's ability to orient himself, Dionne said. He was seen sitting alone on a bench in front of the restaurant, presumably awaiting his designated driver. That was the last time anyone saw Besner alive. A friend sent him a text message and he replied that he was outside the restaurant. But when the group came to get him, he was already gone. Not only does alcohol provoke a disorienting effect, Dionne explained, but at high consumption it accelerates hypothermia, which contributes to confusion and disorientation. Often, victims of hypothermia do not recognize the early stages. Later, as hypothermia progresses and the body can no longer regulate its temperature, blood vessels become restricted and co-ordination impaired, and confused victims stagger as if drunk. The mix of cold and alcohol proved lethal for Besner, the coroner said. Someone would have to be "binge drinking" to reach a blood-alcohol level of 0.26 per cent, said Sonia Duguay of Educ'alcool, a non-profit group that advocates responsible drinking. "That's a severe intoxication of someone drinking one drink after another," Duguay said. Dionne's ruling of accidental death supports what police had said since the beginning of their investigation: Besner apparently fell into the canal and probably froze to death as a result. But the young man's family, who were not available for comment yesterday, have said they believe there is more the story. Relatives said they viewed security camera footage of Besner, taken in the hours after he vanished, that raises doubts about how he died. The security video, reportedly taken from several locations in and around Old Montreal in the hours after Besner's disappearance, shows him staggering, confused and asking for help. -(Montreal Gazette)