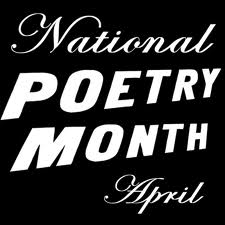 Back in February, this idea was born…
"Words have always been a part of my life– from the countless diaries I kept as a child, to memorizing the lyrics of THOUSANDS of songs growing up, tape recorder in hand, stopping and starting, to write down the EXACT lyric to a Cyndi Lauper or Michael Jackson song.

It's amazing how you can string together a few isolated and dangling phrases and make them come alive… a vision in your mind, a story, a poem.

When I shared Maria Shriver's announcement on Twitter yesterday that she will be guest editing the April issue of Oprah Magazine in honor of National Poetry Month, I first felt envy (keepin' it real ladies) and then one of my readers gave me a wonderful idea.

Hold a poetry contest!!!

I thought,  "What a great idea!"

So, to honor that loyal follower, I am giving you two months to write a poem and submit it to us for April's National Poetry Month. We will choose the best one, and publish it the beginning of April to kick off National Poetry Month. The winner will also get: A ONE YEAR SUBSCRIPTION TO OPRAH MAGAZINE!"
It was a very difficult decision. There were so many incredible works of art. There was one written by a young boy to his mother on the night before her funeral. Some written by incredible authors and poets. Others written by wounded souls trying to heal.
But after our panel of judges went through them all, it was this simple one that touched us all equally… written by a dad-to-be. A world of possibility. A chance to right the wrongs. A chance to create something great. And that is why Jonathan Levitt is our winner.
Congratulations Jonathan. We will be sending you your subscription to Oprah Magazine. Perhaps your wife will thank you. 🙂
Without further ado, our National Poetry Month Contest winner…
The Waiting Game
This child that grows inside my wife
Is the piece I've been missing for all of my life.
I'm counting the days 'till my baby is born
Until I can comfort, and love, and keep warm.
It seems like forever I've wanted this gift
The love of a child, a love that I've missed.
My words simply speak of a feeling so strong
To finally make good of my childhood wrong.
To love and protect this brave little soul
Who knows not my need for one simple goal.
To be the best father I truly can be
And give him the things I wanted for me.
–Jonathan Levitt
Tell us what you think.
xoxEDxox