By Guest Blogger Tosca Reno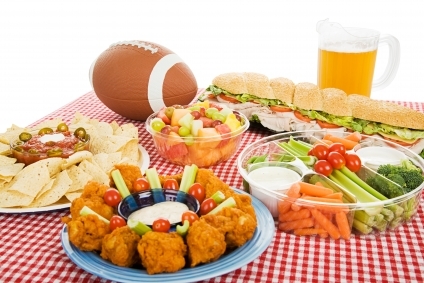 One of America's favorite pastimes is gathering for the Super Bowl, which often involves a spread of unhealthy food options. But you know what? Spending time with your friends and cheering for your favorite team should not have to add to your waistline! Eating clean can be easy, even at parties. You just need the tips and tools, and I'm excited to share them here for Women On The Fence readers!
My method is simple: I trim food decisions into a simple guide to eating right. The concept: 51 Food Laws to take with you to the grocery store. Perfect for Super Bowl Weekend!
Just a few of the Rules highlights:
Sugar – The legal Cocaine! 
Eat Like A Baby
Can't Read It? Don't Eat It!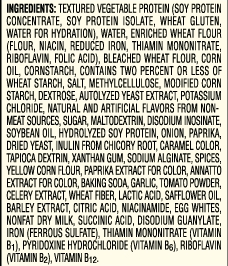 Alright, let's cut right to the chase. If you're hosting or attending a Super Bowl party this weekend, I have some healthy rules you should follow:
Just the Rules for Your Super Bowl Party
Rule #8 – Color Up:  Super Bowl junk is often a sea of fatty beige foods. Colorful foods are filled with more nutrients and flavor than bland, monotonous, processed foods. Opt for a rainbow of colors on your plate, which offers numerous health benefits.
Rule #12 – Smaller Portions, Smaller Pants: A festive atmosphere can often create an eating frenzy, which leaves you feeling blah. It's okay to enjoy an array of foods, just eat smaller portions. Remember one serving of lean protein is the size of your palm; one serving of complex carbohydrates from whole grain is the size of your cupped hand; and one serving of complex carbs from fruit and vegetables is two hands cupped together.
Rule #13 – Fletcherize and Swallow: Do you ever fill your plate, only for the food to disappear moments later? Gobbling food is a common disorder in our fast-paced society. Remind yourself to sloooooooow down. Eating is not a race. Eating slowly will not only allow you to enjoy your food, but will help you determine when you're full and help aid in digestion.
Rule #23 – Good Carbs, Bad Carbs: Carbs can be confusing, and are often given a bad rap! Stay away from 'bad' grocery store, processed carbs and stick to 'good' carbs like fruits, vegetables, legumes and whole grain.
So, here you go– some of my own recipes if you're hosting or bringing food to a Super Bowl party this weekend:
Enjoy the Eat-Clean Version of your Favorite Super Bowl Foods. (Click on the link to get the full recipe).
BBQ Chicken Pizza – Boring delivery pizza has nothing on the fresh, sweet and spicy Eat-Clean version!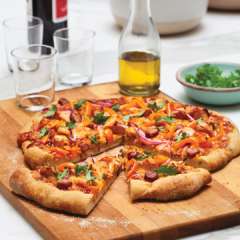 Baba Ghanoush – Ditch the fried accompaniments for this favorite eggplant dip and serve with an array of fresh vegetables (like carrots, celery and peppers), and whole wheat pita slices.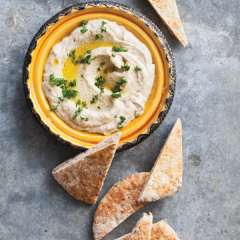 Sweet Potato Oven Fries – You'll feel like you're cheating when you take a bite of these delicious, crispy, sweet potato wedges with just the right amount of seasoning.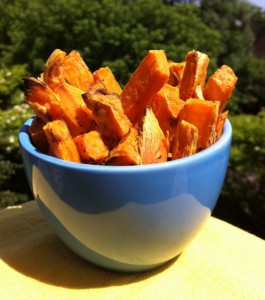 Eat-Clean Tuna Burger – The Eat-Clean Tuna Burger is juicy, flavorful and provides the fun of eating a burger, without the guilt of unwanted fat.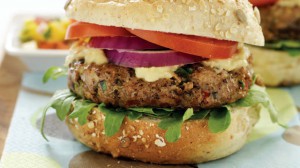 Vegetarian Chili – Chili is a Super Bowl favorite, and this version packs a hearty and satisfying flavor, but is fully vegetarian.
It's time to get off the fence and get healthy in 2015! Start this weekend if you haven't already. Remember, your body will be good to you, if you are good to it.
~Tosca
—  
About Tosca Reno…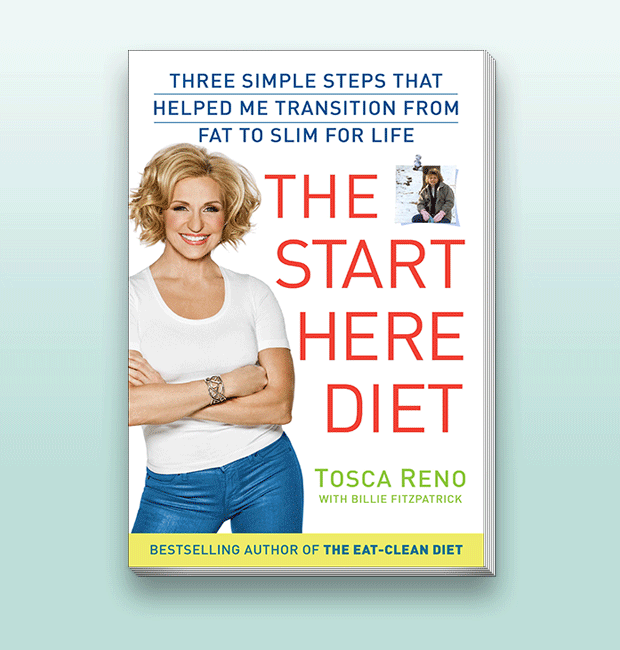 Since transforming her body, health and life at age 40, New York Times best-selling author Tosca Reno, NTP has become an inspiration to millions through her motivational columns, seminars and her Eat-Clean Diet book series.  The star of her own show called Tosca:  Flexing at 49, which was featured on Oprah's OWN network, has appeared on Good Morning America, CBS Early Show, The Doctors, Fox & Friends, EXTRA TV and numerous other TV and Radio Shows nationwide.  She has also graced covers and been featured in many magazines.  Today at 53 years old, Tosca is a mother of four and has never looked or felt better. She has dedicated her life to following the Eat-Clean Diet lifestyle and helping others do the same. Tosca Reno recently launched her 15th book, The Start Here Diet. For more information please visit:  www.ToscaReno.com or www.EatCleanDiet.com
—
What are your plans for the Super Bowl? Will you be watching? Will you be with the girls or do you have 20 guys coming over to watch with your man? Enjoy the Super Bowl! Seahawks or Patriots!?