Liz, I'm thrilled to have you, a savvy entrepreneur and mom grace our blog. I don't think Liz Lange Maternity needs much introduction– most of our mom readers know this well-known, fantastic brand. I loved my Liz Lange Maternity clothes when I was pregnant- comfort, style, affordability. Please tell us the story of how Liz Lange Maternity was born.
I never intended to be a fashion designer or an entrepreneur. I graduated from Brown with a BA in Comparative Literature. And after working at Vogue for a few years, I left to go work for a struggling fashion designer whose work I admired. While there, and in my 20s, my friends started to get pregnant (I myself was not pregnant, but I was newly married and it was that time in my life.) They all had the same complaint– that they couldn't find anything that they liked to wear while pregnant (This was 1996 – maternity apparel landscape was very, very different!)
I noticed 2 things that led to my aha moment: my friends were spending (they had no choice, nothing in their closets fit!)  So I knew that pregnant women were definitely spending on their maternity wardrobes, and they were spending on items they didn't like. And two, that they looked much better when squeezed into a stretch tight non-maternity outfit than in an oversized traditional maternity outfit. So I thought, "I get it, maternity clothing needs to be fitted and stretchy and women will buy it because they will like it and they will actually look great."
Believe it or not, stretch fabric was new to the market place in the mid 90s, so my idea was to create a line based entirely on stretch fabrics. Today we take it for granted that everything from our jeans to our jackets stretches, but back then only sweaters and tee shirts stretched.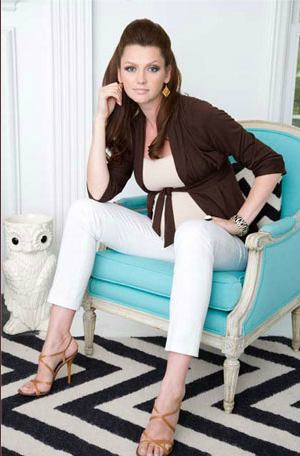 I didn't consider myself a designer, so I excitedly told the fashion designer I was working for at the time, that I had the idea that would save his business. He didn't get it (actually no one did, because maternity clothing as fashion wasn't even a category back then.) I couldn't get the idea out of my mind and finally realized that I had to do it. I left and started a tiny made-to-order business mostly for friend.  But word spread quickly, and the business grew beyond my wildest dreams.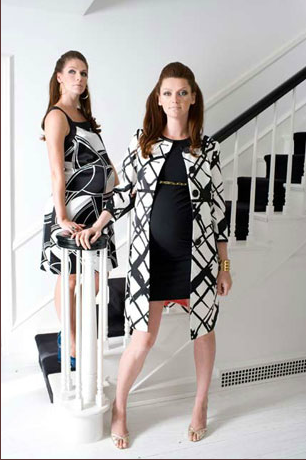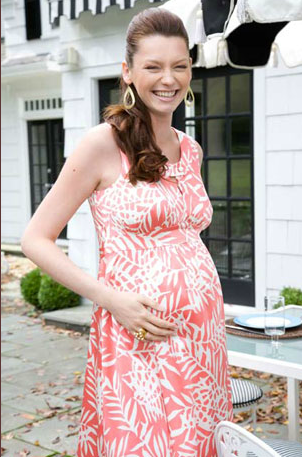 Was it something you knew early on would take off? What pitfalls did you encounter along the way. What were the challenges and how did you overcome them? And for a woman thinking of starting her own business, what would be some advice you would give her?
I did believe it was a good idea but no, I never expected that one day I would have Liz Lange flagship stores on Madison Avenue, in Beverly Hills and in Long Island. Or that I would dress every pregnant celebrity or that I would partner with Nike to make Liz Lange for Swoosh maternity athletic apparel and then partner with Target (Liz Lange for Target is and has been the exclusive maternity offerings at every Target location and Target.com for the past decade.)
But of course there were challenges along the way. The greatest was just having the courage to start my own business! What I now know that I didn't know then, was that before someone does something new, no one ever thinks it's a good idea. You need to have the strength to shut out the naysayers, and proceed with your idea in the face of a lot of negativity. That is just the plight of the entrepreneur since you are seeing the invisible. The other challenge is that the negative forces are not just external. As women, we seem hardwired sometimes to doubt ourselves and be overly critical of ourselves. You need to be your own best friend and cheerleader. Seek out advice.
Before I started Liz Lange Maternity, I reached out to anyone and everyone whom I could think of that I thought could be helpful in any way. I offered to come to their office, take them to coffee, lunch, dinner, whatever just for the chance to pick their brains. Don't be shy, people are for the most part happy to help. I know that I am always thrilled if I can offer advice to a new entrepreneur in the making.
Get the word out about your new business. This is not the time to be shy or extravagant. You can't afford a marketing person/Publicity agent at the beginning. You need to call the magazines, editors, writers, etc. to try to get press on what you are doing (no one can tell your story more compellingly than you can), and with social media today, there is no excuse not to be out there shouting about your new company from the rooftops!
Many mompreneurs wrestle with the decision of partner, or no partner. The idea of having another person to share the rewards with, but also the burdens with, can be very helpful. Do you suggest women should find a partner when starting their own business?
To have a partner or not to have one is an extremely personal decision. I decided to go it alone as I felt the idea was mine and I wanted full ownership and control. That said, the RIGHT partner, someone who has a skill set complementary to yours can be fantastic.
What were some of the highs and fun moments in your life and career? What were some of those highlights and the moments where you really got to enjoy your success?
Personally, of course the birth of my son (now 13) and my daughter (now 11) were the happiest days of my life. I have loved every second of being an entrepreneur. Steve Jobs once said "There is no greater rush than being in the small boat. You feel every wave and every bump, and you can change course on a dime." I have loved feeling every bump.
I guess some of my favorite moments in no particular order, were the first write up about my new business, which was in the NY Times when I was still just making clothing to order out of a closet sized office. And when Nike called and said they wanted to partner with me on a line of maternity athletic apparel. And then when Target asked me to be their maternity design partner. Of course opening my first flagship boutique in my hometown of NYC on our most famous shopping street, Madison Avenue was incredible. And doing the first ever maternity fashion show at Bryant Park during NY's fashion week back in 2001 was a real high. Doing the Oprah show as amazing. And then having offers to sell my brand and ultimately selling it in 2007 felt like a big accomplishment.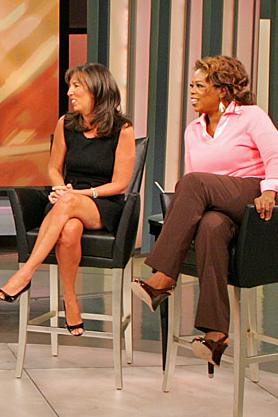 How do you balance career and womanhood? Any tricks you care to share with our readers on how to manage the juggle?
I am always juggling and it is never easy. I try to prioritize and be as present as I can be, wherever I am. So if I'm with my children, I try to really be with them (and not on my blackberry or thinking about work) and when I am at work, I try to just focus on that.
Believe me, I am often on my Blackberry when I shouldn't be, or dashing out of a meeting late to pick up the kids somewhere. My best time saving trick is to plan what I am going to wear to work the evening before (kind of like how we lay out our kids' clothes to avoid stress in the morning.) I also try and keep my top beauty products out on my bathroom vanity so that everything is in sight, and very streamlined.
I know I wrestled with the right moment to sell my company. When did you know? How did you know? Was there a defining moment?
Selling a business is a bit like starting a business– I am not sure that you will ever feel that the time is right! You just have to follow your gut and do what feels right. For me, it was getting an offer that made sense to me at the time, and that would allow me to monetize the success of the brand. I also felt that my children were getting older and I wanted to be able to spend more time with them. These decisions are so personal.
Selling a business is very bittersweet. At least for me it was. The business was my baby (actually my first baby as I started it before my children were born.) I can't imagine not being involved with it, so although I sold it, I stayed on, and remain the face of the brand and the Creative Director.
Tell us about your latest venture Shopafrolic.com. Do you ever stop creating, Liz? 😉
One of the nice things about selling my business, was that it did free up some of my time and allow me to pursue some other creative ventures. Working with my talented, beautiful and chic sister had always been a dream of mine and now I could. Together we started a fun shopping e-newsletter called Shopafrolic.com.
Each day, we email a clothing, accessory or beauty item that we love and we do a 'she said, she said' on how to wear it, why we like it, etc… We link to where you can buy it and we often do a "separated at worth," where we pair the item with one that looks just like it but is either much more or much less expensive.
I also started my first ever NON maternity clothing line, Completely Me by Liz Lange, which I sell exclusively on air and online at the Home Shopping Network, HSN.com.
I love to ask my interviewees.. What are the top 3 things on your Bucket List?
Hmm, bucket list, so much I still want to do!
1. Travel as much as possible with my children, I want them to see everything! I am a 'life is a buffet' type person.
2. Write a book about my story and entrepreneurism in general.
3. Start a jewelry line. I LOVE jewelry…
—
I would love to know your thoughts. Isn't Liz a dynamo? I think she also gave us some sage advice on business startup. Feel free to leave Liz a comment or question… she'll be reading!
Have a wonderful weekend, my friends.
xoxEDxox