By Alisa Ahlstone Lewis
Are you ready to start your own business? Do you have your brilliant idea, the passion, smarts and confidence to make it happen, and a fabulous support team around you? Are you are totally ready to go for it, even during COVID-19? Just remember, you may not want to quit your day job just yet…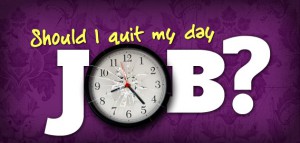 I am conservative, or maybe just practical, when it comes to major money matters in my household – especially when it comes to cash flowing into my bank account. I knew I wanted to start my company, Sweet Peas & Stilettos, and I knew it was going to be a huge success one day, but I was not ready to give up a steady paycheck to make it happen.  I decided to start my company at the same time I was already juggling life with an active toddler and a demanding job that required me to travel every week. Some people told me I must have been crazy and completely out of my mind – I like to think that I was highly efficient and organized.
Here are some important tips if you are thinking of going from employee to self-employed, or simply thinking of earning some extra money on the side moonlighting:
It's all about priorities
The most common excuse I hear from women is that they don't have enough time. These are the same girlfriends who can tell you about every episode of Tiger King who have their favorite bachelors picked out for The Bachelorette. They have also been to 4 yoga classes this week and met girlfriends for drinks after work. You have to think about what you are willing to give up to make your business a success.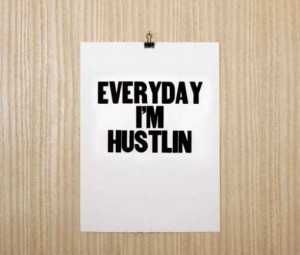 You need to stop and really look at how you use your time. I decided to give up TV and as soon as my son went to sleep at night, I would work on my website. I typically worked on it from 9pm to midnight almost every night of the week. (I will admit that I was very tempted to sit down for a week and watch every episode of Gossip Girl and Mad Men to see what I had been missing!) I loved every minute of it so it didn't seem like work at all. My son was always my number one priority so I tried not to carve into the time I had with him.  Luckily, I had a supportive husband.  Sometimes on weekends he would take my son on a special trip to the zoo or the aquarium so that I could have a few additional hours to work on my site which was wonderful and turned out to be special time for all three of us in very different ways.
Learn to compartmentalize
You want to keep your day job and your new venture entirely separate. From 9 to 5 (or 8 to 7), focus 100% on your day job. Don't get sidetracked. Be in the moment. It may be hard to do, but don't check emails for your own business while you are at work (or even if you're working from home).  It's bad business, it might get you fired, and you don't need that bad karma either. When you are with your family, focus on them 100%, and keep your Smartphone out of sight.  When you are working on your company, focus on your company.
Review your current employment contract
If you plan on keeping your day job while you start your new company, you want to make sure you can legally do so. You certainly don't want there to be any conflict of interest, and you don't want your employer coming back and demanding a piece of your business. Many companies include clauses that specifically exclude you from doing anything that could be considered competitive to your current employer. When in doubt, talk to your human resource department.
Outsource whatever you can afford to give you time to work on your venture, as well as much needed peace of mind
You can usually justify outsourcing the house cleaning, running errands or gardening, knowing you can spend that time on your company. I hired a cleaning service to clean my home, but I did my own gardening. I used the time that I pruned rose bushes and raked leaves in the yard to be with my son as he played with his trucks and dug holes in the dirt. Being outdoors in the garden was a perfect opportunity to get away from work and have fun outdoor time with my son.
Every two or three weeks do a sanity check about how you are performing in your day job
Make sure you are still working hard and delivering there, too. You don't want your performance to slip. I actually found that I worked even harder at the office – maybe I was over compensating. I was committed to making sure that starting my new business would not have any impact on my ability to deliver on my projects and lead my team. Remember, if and when you are ready to leave your day job, it's optimal to do so on your terms, specifically for financial reasons, so make sure to keep up with your job requirements.
Check in with yourself, your spouse, your family and friends regularly to evaluate the impact of juggling two jobs with everything else in your life
I realized I hadn't seen my closest friends in months. I was going very hard juggling both. I took a few weeks off to catch up with my friends, have people over for brunch, host a swim party, get a pedicure, and just live and breathe.  It really helped me recharge my batteries and refocus.
The right time to "cut the cord" is different for every person
The luxury of the 'day job' is that you maintain your income and until you're bringing in revenue and making a profit in your new business. Sara Blakely, founder of Spanx, was filling orders and shipping nights and weekends to major department stores while STILL holding down her day job. She waited until she was revenue generating to quit her day job. Others, with a spouse and a second income might have the luxury of leaving sooner to focus solely on their business. Timing is everything, and no one can tell you when the time is right to cut the cord.
In fact, you may NEVER quit that day job, and enjoy the extra money on the side from your part time business. It's always a personal choice, one that's entirely your own, and that's the beauty.
I was able to learn so much along the way (and I had a lot to learn about building an online business). While moonlighting, I had the time to build the foundation while I was still earning a paycheck. I am very proud of my website and truly believe it is a great resource for moms. I worked hard to balance it all, but in the end it was the right choice for me.
—
About Alisa Ahlstone Lewis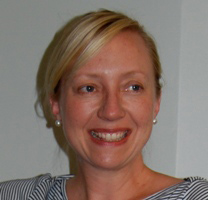 Alisa Ahlstone Lewis is the founder and editor-in-chief of Sweet Peas & Stilettos – The Modern Mommy Guide, an online destination where you'll find a wide selection of resources including day planners for moms, great mom websites, work bags for women, cute business cards and so much more.
Alisa is a graduate from Stanford University and received an MBA from U.S.C.'s Marshall School of Business. She currently lives in Saratoga, California with her husband, Steve, and her little sweet pea, Carl. Alisa also has a long-standing shoe obsession, hence the name, Sweet Peas and Stilettos.