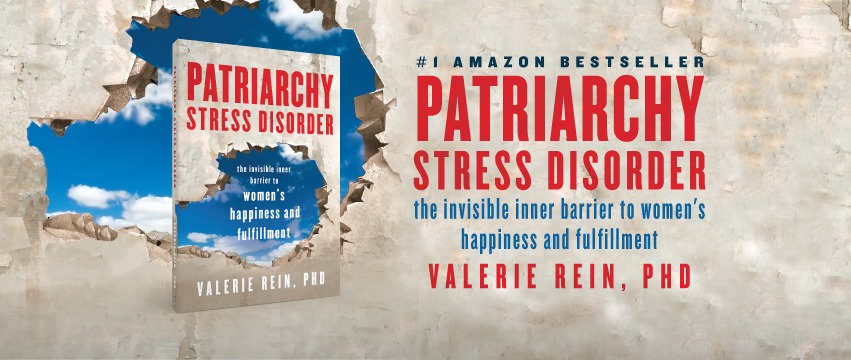 Season 1, Episode 10 is now live with Dr. Valerie Rein!
How you can listen to this episode:



Episode Summary
In this episode, I chat with Dr. Valerie Rein. Dr. Rein is the author of the book Patriarchy Stress Disorder and The Invisible Inner Barrier To Women's Happiness.
We go deep in this episode and talk trauma, how to not pass your trauma down to your kids, why we all have trauma we might not even realize we are experiencing.
For today's blog post, I share some of Dr. Valerie's wisdom, in her own words:
"I've been writing this book all my life as a girl, teenager, and woman. As has every woman I talked to as part of my research for this book. We just didn't know it.

What we knew is that throughout our lives, we have been guarding one big secret. And that guarding it took a lot out of us. It disconnected us from our authentic desires, it made us feel like we didn't belong with others who have it together, it made us stay in relationships and jobs that weren't good for us for way too long and wage an unrelenting war on our bodies. What we didn't realize is that every woman. Every woman. Every. Woman has been guarding the same. Exact. Secret:

"There's something wrong with me."

Once I realized that, I also realized that my story was every woman's story. That my quest for happiness and fulfillment was every woman's quest. And that on this quest, we were all running into the exact same invisible inner walls.

I've discovered on my personal journey and over the years of serving women as a therapist and coach—that problems that we believe are individual ("something's wrong with me") and have been working so hard to solve as such, have very little to do with us personally:

They're rooted in our shared trauma—the trauma of the millennia of oppression that I've termed Patriarchy Stress Disorder® (PSD).

This discovery has changed everything for me and women I've shared it with. The most common response of a woman hearing about PSD for the first time has been:

"Finally! Someone's given a name an an explanation to what I've been feeling all my life, wondering, what's wrong with me!"

In This Episode
Every woman has been guarding the same exact secret, Dr. Valerie says, "There's something wrong with me." We believe there is a problem individually with us, but really have very little to do with us personally: They're rooted in our shared trauma—the trauma of the millennia of oppression that I've termed Patriarchy Stress Disorder® (PSD).  Dr. Valerie shares what PSD is.
Why despite women's achievements are they still often dissatisfied, and why Dr. Valerie says it's not their fault
The 1 thing draining 90% of our time and energy. What is it, and how de we reclaim it
What are some of the long term effects of trauma
How we can begin to heal from trauma. What are some exercises women can put into practice, or action steps we can take if we have been exposed
What do we do when we are working on ourselves and trying to heal ourselves, but those around us aren't as self-actualized or evolved – our partners, parents, siblings, friends. How do we keep our frustrations in check, and is it out job to change people and show them the light? Or leave them as they are?
How do you not repeat cycles or patterns of toxicity in our life, how do we not pass them onto our children?
How can we best support our kids during the difficult teen years when they are exposed to sex, drinking, vaping, drugs, peer relationships. The teens years are hard – how can we do our best to safeguard our kids and make them resilient?
And more
About Dr. Valerie
DR. VALERIE REIN is a psychologist, women's mental health expert, and business consultant who helps people achieve the best ROI by achieving the best mental health—without therapy. Dr. Valerie specializes in uncovering the hidden traumas that hold hostage people's best work, relationships, and well-being, and effectively heals them with a powerful mind-body methodology. Dr. Valerie is an author of Patriarchy Stress Disorder: The Invisible Inner Barrier to Women's Happiness and Fulfillment and a sought-after speaker at conferences and companies committed to diversity, equity, and inclusion, leadership development, and unlocking people's potential.
Links
Learn More about Your Host
Teaching Empowered Living, Erica Diamond is a leading Women's Expert in Lifestyle, Wellness and Empowerment. A Certified Life Coach and Certified Yoga Instructor, Erica is the Founder and Editor-In-Chief of the Award-Winning Women's Lifestyle Brand Women On The Fence®, Weekly Lifestyle and Parenting Correspondent on Global TV, Award-Winning Entrepreneur, Speaker, Spokesperson, and Author of the women's entrepreneurial book, 99 Things Women Wish They Knew Before Starting Their Own Business. Erica founded the Global Get Off The Fence Movement inspiring people worldwide to get off the fence, get unstuck and thrive. In November 2015, Erica founded her fourth venture, HADRY, a patent-pending fashion invention for women. Erica recently launched The Erica Diamond Podcast in summer 2019.
Erica Diamond has been named to the coveted list of The Top 20 Women in Canada as well as FORBES Magazine's Top 100 Sites for Women and FORBES 25 Most Influential Women In Entrepreneurship on Twitter. Erica Diamond was the Spokesperson for National Entrepreneurship Day and is a Huffington Post contributor.
To learn more about Erica Diamond, visit her blog WomenOnTheFence.com or her website Erica-Diamond.com
Don't forget to SIGN UP for Erica's newsletter and tips:
http://feedburner.google.com/fb/a/mailverify?uri=Womenonthefencecom&loc=en_US
If you liked this, then listen to the podcast episode for even more. And don't forget to subscribe to the show!
You don't want to miss this episode!