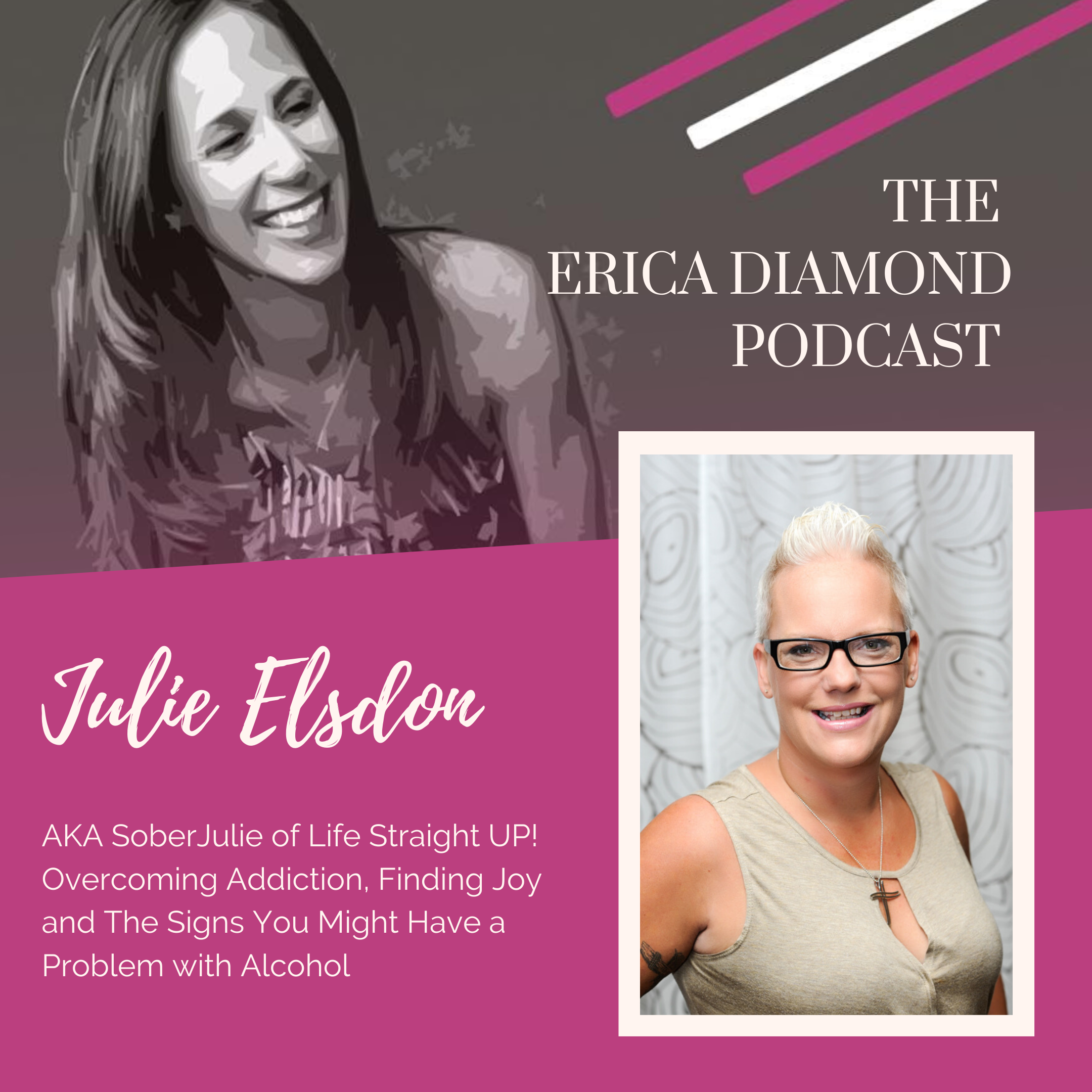 How you can listen to this episode:



Episode Summary
In this episode, I chat with Julie Elsdon, mom, wife and recovered alcoholic. As a Certified Professional Recovery and Life Coach, Julie takes us back to where her addiction all started at age 19. She shares what to do if you are showing signs of abusing alcohol, and how to get help.
We go deep in this episode. You don't want to miss this episode!
In This Episode
Julie shares her childhood and how alcohol was "always around."
When Julie's drinking went from in check, to not in check, and how she knew the line had eroded.
About hiding your drinking.
The moment Julie decided to get sober.
Julie takes us through her sober journey.
Julie talks about her triggers, and she navigates around them.
If you may be teetering on that line, Julie shares some signs your drinking isn't in check. She also shares what advice she has for women who may be on that slippery slope.
The first thing someone should do if they feel they have a problem with drinking.
About life today as Sober Julie.
About Julie
Known since 2010 on social media as 
SoberJulie
 and as the founder of the popular blog 
Life Straight UP!
 Julie is known for her no-nonsense, straight up style of connecting with people to help them to see the possibilities that a life in recovery offers. As a Certified Professional Recovery and Life Coach, Julie assists clients to break free of destructive patterns in order to achieve their true potential. Julie guides clients using problem-solving strategies and empowerment, challenging them to live the life that they truly desire. Julie believes that we all have the answers and power to change within ourselves.
Links
Learn More about Your Host
Teaching Empowered Living, Erica Diamond is a leading Women's Expert in Lifestyle, Wellness and Empowerment. A Certified Life Coach and Certified Yoga Instructor, Erica is the Founder and Editor-In-Chief of the Award-Winning Women's Lifestyle Brand Women On The Fence®, Weekly Lifestyle and Parenting Correspondent on Global TV, Award-Winning Entrepreneur, Speaker, Spokesperson, and Author of the women's entrepreneurial book, 99 Things Women Wish They Knew Before Starting Their Own Business. Erica founded the Global Get Off The Fence Movement inspiring people worldwide to get off the fence, get unstuck and thrive. In November 2015, Erica founded her fourth venture, HADRY, a patent-pending fashion invention for women. Erica recently launched The Erica Diamond Podcast in summer 2019.
Erica Diamond has been named to the coveted list of The Top 20 Women in Canada as well as FORBES Magazine's Top 100 Sites for Women and FORBES 25 Most Influential Women In Entrepreneurship on Twitter. Erica Diamond was the Spokesperson for National Entrepreneurship Day and is a Huffington Post contributor.
To learn more about Erica Diamond, visit her blog WomenOnTheFence.com or her website Erica-Diamond.com
Don't forget to SIGN UP for Erica's newsletter and tips:
http://feedburner.google.com/fb/a/mailverify?uri=Womenonthefencecom&loc=en_US
If you liked this, then listen to the podcast episode for even more. And don't forget to subscribe to the show!