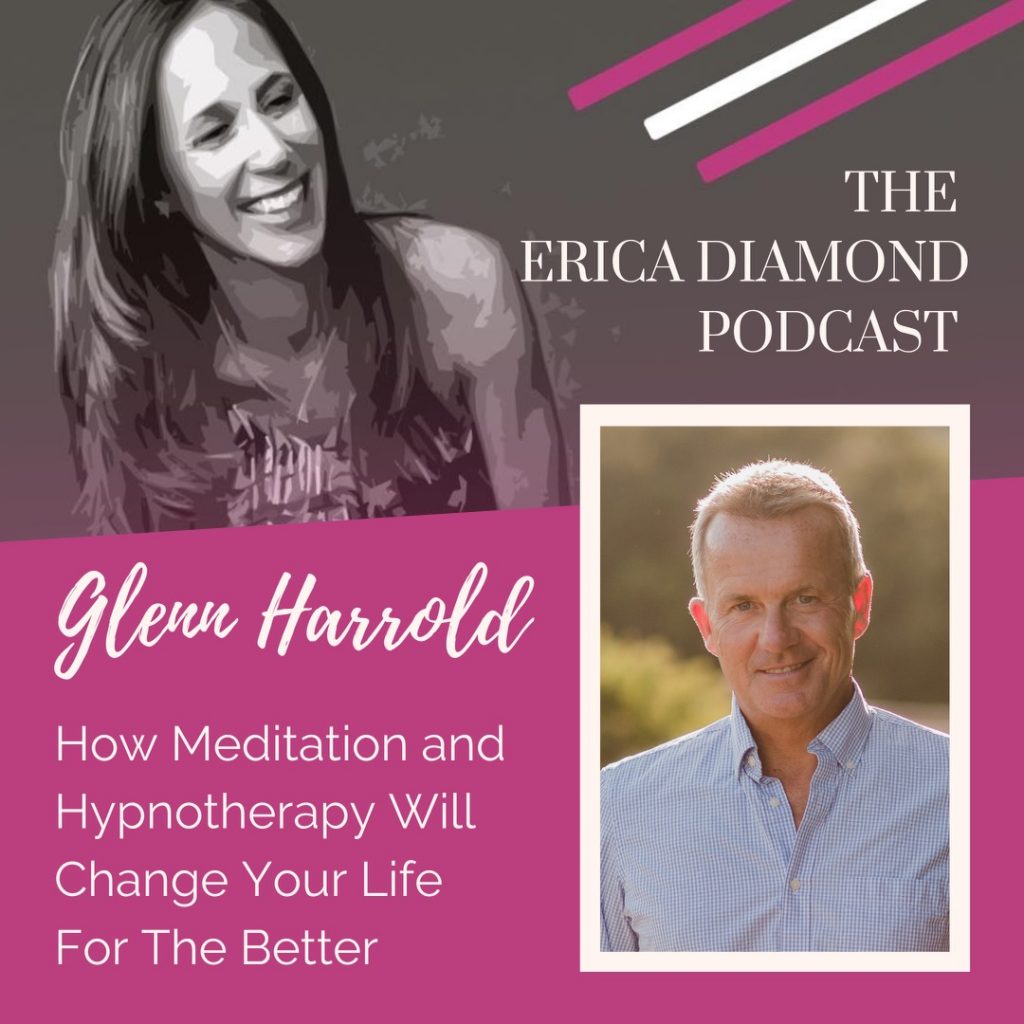 Episode Summary
Welcome back to the show! I've got to admit, I am a little starstruck by my guest today.
My story with today's guest dates back to March 2020— COVID 19 virus rears its ugly head. We are brought literally to our knees with global instability, struggling economies, people being hospitalized and even dying alone not able to be surrounded by their loved. Let's take a moment to realized the trauma we have been living through -it has been a really difficult year.
And despite being a meditation teacher and a meditation student for almost twenty years, I started to struggle a little with sleep at the beginning of coronavirus. As a meditation teacher on Insight Timer myself, and user of the Breethe meditation app, I was familiar with Glenn Harrold's meditations and hypnotherapies, but when my sleep started to change at the beginning of COVID-19, I rediscovered Glenn, and consistently, I mean religiously started meditating seven nights a week without fail to his hynotherapies and meditations before bed.
My sleep became so deep and so restorative that my husband started to ask me what was going on, "You close your eyes Erica and you don't even so much as move until the morning!"
Thank you Glenn!
In This Episode
Take us back to the beginning. How did you find meditation and hypnosis? How did you become interested in this field as your passion and career?
What is meditation because many people don't truly understand what it is
What are the benefits of having a daily practice?
Let's talk about hypnosis. The idea scares many people. What actually is hypnosis and why is it so important to overcome issues that people struggle with – addiction, anxiety, weigh loss, smoking?
If someone is feeling stressed or overwhelmed, what are a few things they can start doing now as far as meditation or hypnotherapy? How can anyone start a meditation practice?
What's a few of the most common things you hear about meditation? I know I hear, "I'm not a meditation person," or "I can't quiet my mind." (What are some misconceptions about meditation?)
My girlfriend who is a Glenn groupie asked me to ask you two questions. Number 1, can you do a 963 Hz for the crown chakra? And question 2, will you ever do mini 10-minute meditations for your energy system?
Tell us truthfully, do you ever get stressed or anxious? You're human, so I imagine you do at times, and if so, what do YOU do? I imagine you don't meditate to your own meditations? I don't meditate to mine.
What are you currently reading?
When are you at your happiest?
Coffee or tea? Netflix or book? Beach or lake?
Where can we find your meditations and hynotherapies?
About Glenn Harrold
Glenn Harrold is one of the world's most successful hypnotherapists and self-help authors. He has helped thousands of clients including many celebrities in a 25-year-career and has sold over 10 million hypnosis and meditation Apps, MP3 downloads and previously CDs.
Glenn has written 7 self-help books, and his main app Relax & Sleep Well has become one of the world's biggest grossing self-help Apps. On the world's number one Meditation App, Insight Timer, Glenn is one of the most popular authors.
In May 2011 he was made a Fellow of The British School of Clinical Hypnosis in acknowledgement of his achievements in the world of hypnotherapy. Glenn now happily resides in Lagos on the Portuguese Algarve with his family where he works with clients and record webinars and interviews.
Links
Learn More about Your Host
Teaching women how to prioritize self-care, Erica Diamond is a Certified Life Coach and Certified Yoga & Meditation Teacher, Lifestyle and Parenting Correspondent on Global TV, Founder of Bliss Essential (BlissEssential.co), Professional Speaker, Host of The Erica Diamond Podcast, Course Creator of Busy To Bliss (BusyToBliss.com), Author of the women's entrepreneurial book 99 Things Women Wish They Knew Before Starting Their Own Business, and Founder & Editor-In-Chief of the Award-Winning Lifestyle Platform EricaDiamond.com® (previously WomenOnTheFence.com®),
Erica Diamond has been named to the coveted list of The Top 20 Women in Canada, FORBES Magazine's Top 100 Sites for Women and a Profit Hot 50 Canadian Company. Erica Diamond was the Spokesperson for National Entrepreneurship Day and is a Huffington Post contributor.
To learn more about Erica Diamond, visit her website EricaDiamond.com
Don't forget to SIGN UP for Erica's newsletter and tips:
https://wellness.ericadiamond.com/subscribe
If you liked this, then listen to the podcast episode for even more. And don't forget to subscribe to the show!