Direct link: https://globalnews.ca/video/4487946/jomo-is-the-new-fomo
WE'VE HEARD OF FOMO, BUT WHAT IS JOMO? IT'S THE JOY (NOT THE FEAR) OF MISSING OUT AND MANY ARE SAYING JOMO IS THE NEW FOMO!
Before Snapchat and Instagram, we had to use our imaginations to dream up all the cool things our friends were out doing. Or better yet, we didn't even know we weren't invited to the party! But now, thanks to social media, we actually have the cold hard proof of the incredible lives people are living (or so it looks that way), hence giving us FOMO. Now we actually get to SEE what we are missing out on – and that can feel pretty shitty for kids AND adults alike.
The average teenager spends around six hours a day refreshing their social media feeds and the average adult spends about four.
YUP, LET THAT SOAK IN. OR SINK IN. WHAT'S THE CORRECT EXPRESSION?
The fabulous times people are having is being shoved down our throats… by ourselves.
So, this week on Global TV, I shared the alternative for you: JOMO! The JOYS of missing out. The joys of being mindful, and present in the moment.
And it can be absolutely wonderful.
I discussed how JOMO can cure FOMO in our kids, and in ourselves. And I shared some tips and strategies (example instilling social media boundaries, reminding our kids that most of what they are seeing is illusions and carefully curated cherry-picked moments). You'll have to watch the segment above. And I hope you do.
But did you realize that by overcommitting out of FOMO… you can actually be burning out? If we keep saying yes, yes, yes, or 'I have to go there so I don't miss it,' we can end up exhausted, overwhelmed, and doing things just for appearances sake. Over time, this can get us into trouble.
So, it's the weekend, friends. It's FriYay. I want to remind you that you have the chance to rest and regroup and practice JOMO this weekend. Yes, you do.
In fact, I shared this on social media this Wednesday.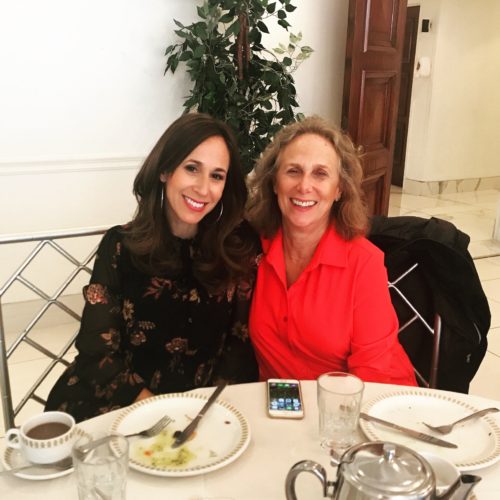 As someone whose job it is to share advice, I take my words seriously. So, after sharing the joys of JOMO this morning on Global TV, I thought it necessary to take my own advice and experience the Joy Of Missing Out – I skipped #InfluenceMTL with Malala Yousafzai (that I had planned on going to), and instead, opted to spend lunch with my mom at our annual tradition of eating at the synagogue for Sukkot. I felt I would experience more by staying close to home, chatting with other women, listening to our rabbi speak, and not running around. Let's not worry so much about where we "think we should be," and be more inclined to be "where we want to be." And that, my friends, is a little secret to more happiness. It might mean staying home, or close to home, or saying no to something simply because we're tired… or because we just don't wanna do it.
Know what you need, and give it to yourself whenever possible.
Sad that I missed what I AM SURE is an incredible conference (and waving to all), but joyful I got to spend lunch with my mom. And on #NationalDaughtersDay #JOMOisthenewFOMO
I hope you too will embrace JOMO. Let's all be more mindful to put our phones away and live in the moment. I am guilty of it… and I will try too.
I'd love to know your thoughts on this. Have an amazing JOYFUL weekend.