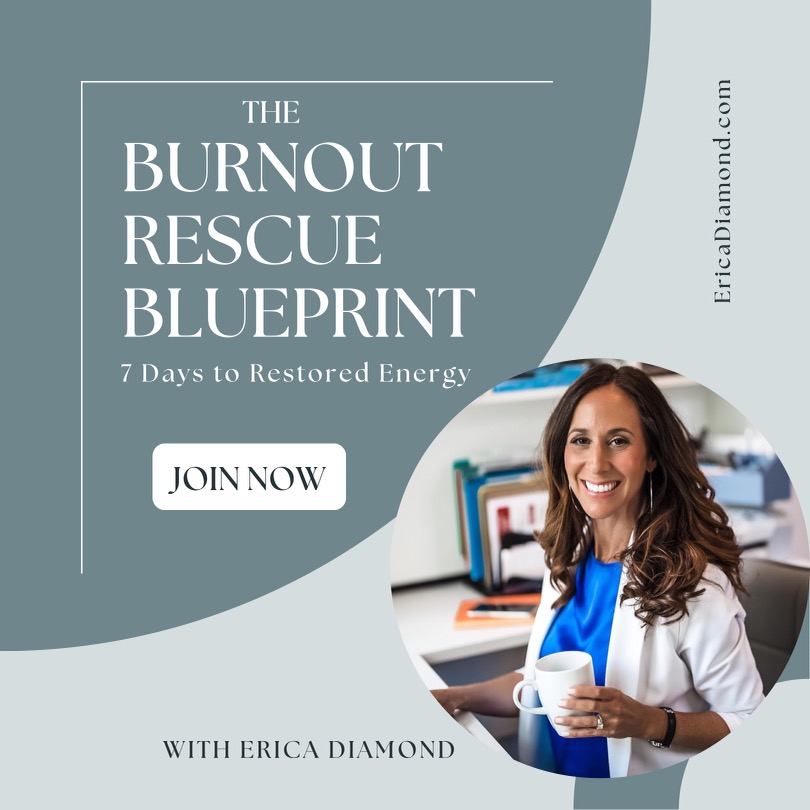 Today you're going to hear some AMAZING news…
But first, are you feeling tired, stuck and burned out by any chance?
What if I told you that in just 7 days, you could create a life of more joy, less stress and enough time in your day to do all the things you love?
Well, now you can.
You've been rescued!
I'm super excited to tell you…
Today, you finally get the chance to access my NEW Burnout Rescue Blueprint: 7 Days to Restored Energy!
I have wanted to create something simple yet powerful, something short yet a win for anyone. That is this new 7 day experience.
I'm super psyched for you.
Why?
Because it's time to finally put yourself back on your priority list. If you're anything like me, living through these past few years have been… well, INTENSE.
It's time to lift the fog.
It is a wild world right now! It's no wonder that so many of us are experiencing burnout, low energy, fatigue, stress, distractedness, and low focus.
It's time to move FROM A to Z – from Anxious to Zen, and show you what's possible for your one beautiful life.
I am beyond excited to guide you into feeling re-energized and renewed.
In just 7 days, you will have a roadmap to move forward in beating burnout and feeling unstuck. In just 7 days you will learn how to create a life where you can wake up feeling joyful, and with a calm peaceful feeling of serenity leading you through your day
I'll be with you every step of the way.
If you've ever felt like…
You're overworked, with way too much to do and people telling you to just 'suck it up' and 'get it done.'
Stuck in the overwhelming busy loop all the time because society always tells us that busy = better. That hustle culture is valued. That 'team no sleep' is celebrated.
Your lifestyle looks or sounds amazing to other people but deep down, you're unhappy or even teetering on burnout.
You've hit some goals, but still don't feel happy or excited by it. You ask yourself "is this all there is?"
Or maybe your daily mood is always dependent upon how your partner, or boss, or other people treat you, or how 'productive' you can be.
Do you notice that your daily happiness is so reliant on EXTERNAL factors, most of which are out of your hands?
It's a strange feeling, right?
The question is: how can you stay grounded and stable even if the ground beneath you is unsteady?
If this sounds familiar, you are not alone. Most of my clients feel this exact same way when they come to me for our very first coaching session.
What I am hearing most these days:
I feel stuck right now. I know I have to start taking better care of myself but I just don't have the motivation to start. Heck, where do I even start?
I am anxious and stressed because I constantly feel guilty, and am pulled between work and my kids (don't even get me started on sex with my partner- I'm too tired for that)
I hate my job, I feel resentful, and am fed up with my co-workers
I have lost my passion and zest for life. I am merely surviving not thriving, and my life feels like a blown out candle
If you're there right now, I see you.
But can I tell you something?
You don't have to stay there.
When I teetered on burnout in 2001, I knew it was time for change. I thankfully committed to creating and building that change.
Fast forward to 2022– I am grateful that I am able to take my own 20-year blueprint to wellness and put it into this new mini 7-day course. To be able to take my life's work as a certified life coach, yoga & meditation teacher, and course teacher, and help you create YOUR own blueprint to well-being.
This is your 7-day guide to beat burnout, create a life of less stress, more joy, and finally begin to fall in love with your life!
It's your chance to lift the fog that's been clogging your mind and finally start living the life you have dreamed of. That you are meant to live.
It's your chance live life with renewed energy and vitality.
And I can guarantee if you:
follow all the steps and
reach out if you're unsure…
After just 7 days, you WILL change your life and your fog will lift.
Here's just some of the things you will get access to…
All of the super-successful time saving strategies I've been using to make sure you don't fall into the burnout trap again
The '3 Questions' Guide to show you what you really want in life to inspire a renewed energy for your life and/or career
The same guide I use to set boundaries so none of your family or co-workers can step over you again…
How to create your wellness toolbox to create habits that last and finally start hitting the goals you've been dreaming of
The rituals that I've been using to find joy in my daily life and begin to love myself for who I am…
And so, so soooo much more.
If you haven't been able to prioritize yourself in the first half of 2022… as we enter the second half, it's the perfect time to heal through self-care… and finally start to put yourself first!
I'm so excited for you.
If you're reading this and raising your hand and saying in your mind, "This is me," please hit the link below to find out more 😉 If you're ready to create a life of balance and bliss and leave stress and burnout behind, then THIS IS FOR YOU.
And I won't even mention that the price of this 7 day course is just $29!!! But only for a limited time, so make sure you grab your spot today!
I'm sending you so much love and can't wait to see you inside The Burnout Rescue Blueprint!
Yours in well-being and self-care,
Erica