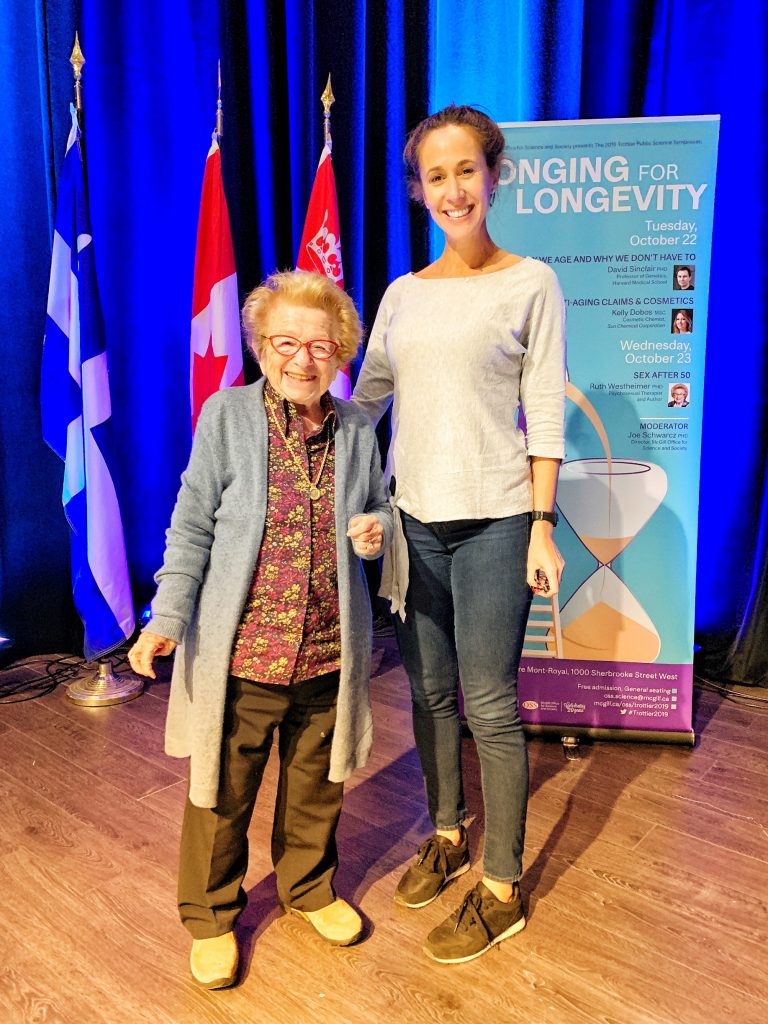 CAUTION: IF YOU'RE SQUEAMISH/PRUDE ABOUT SEX, PLEASE PASS ON THIS POST.
Yes, I'm serious. 😉
Okay, now that we've got that out of the way, let's discuss the research on longevity, aging and sex. Shall we?
I had the great honor and privilege of hearing Dr. Ruth Westheimer talk about sex this week in Montreal at McGill University. There's just something about a little 91 year old woman talking about erections and orgasms in a quiet European accent that had me giggling.
Another notable highlight of the afternoon for me was Harvard Scientist Dr. David Sinclair, author of Lifespan: The Revolutionary Science Of Why We Age and Why We Don't Have To.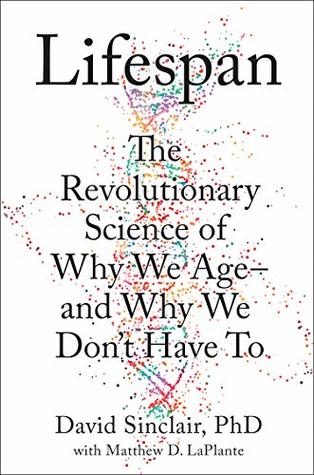 To watch some video footage, go to my Instagram: https://www.instagram.com/p/B4DNmYhjd5H/?igshid=5s6psctgd245
Alright, let's do it. Here is the research in point form:
Dr. Ruth
You should have sex in the morning. Eat a light breakfast then get back into bed and have sex. Sex is best had in the morning because men have the best erections in the morning.
Women need a lubricant as they age for better sex and intimacy. Women, keep lubricant handy!
We have to bury the masturbation taboo right here today at McGill. It is okay for women to satisfy themselves, and they should! If you don't have a partner (and even if you do), you should be masturabting. "And that you can do in the evenings too, ladies!" – Dr. Ruth
Fifty Shades of Grey didn't do women any favors, because women experience pleasure just as much as men do. Women get just as aroused.
AND, THE AUDIENCE'S PERSONAL FAVORITE: No penis can duplicate the pleasure of a vibrator. Every woman needs a vibrator!
It's not just about sex for women that's important. It's about someone being happy when you walk through the door. We need to be touched and held. Women (and men) crave intimacy and conversation and connection OUTSIDE of the bedroom.
Why men sometimes make bad decisions in the bedroom: "When that part of the penis is aroused, his entire brain flies out of it."  (OMGGGG)
Dr. Ruth is still traveling the world and living a vibrant life. She credits gratitude, and her gratitude of being alive which lets her do what she loves with enthusiasm. "I don't forget how old I am. I am careful, I don't ski anymore even though I was a passionate skier, but the joy of life and my gratitude are responsible for my longevity."

Did I remind you Dr. Ruth is 91.5?
Dr. David Sinclair
Dr, Sinclair is known for his research on aging and his advocacy for resveratrol as an anti-aging dietary supplement.
He said that we don't have to age.
To live longer, do two things. Eat as lightly as possible, and exercise with the right intensity.
He says that what if everything we've been taught to believe about aging is wrong? What if we could choose our lifespan?
He said, "Aging is a disease, and that disease is treatable."
From Dr. David Sinclair's own lab at Harvard—he demonstrates how we can slow down, or even reverse, aging. The key is activating newly discovered vitality genes, the descendants of an ancient genetic survival circuit that is both the cause of aging and the key to reversing it. Recent experiments in genetic reprogramming suggest that in the near future we may not just be able to feel younger, but actually become younger.
Dr. Sinclair invites us to incorporate "simple lifestyle changes" such as intermittent fasting, cold exposure, exercising with the right intensity, and eating less meat—that have all been shown to help us live younger and healthier for longer.
We have to exercise to the point is us being out of breath, 3 times per week. if you don't shock your system out of breath, or stress it biologically and put it "in a state of adversity or perceived adversity,"  it will become complacent and won't turn on your longevity genes. Simply put, we need to move, and we need to be out of breath.
This was interesting: he said up to 40 years old, how we age is mostly due to our genetics. After 40, it's lifestyle choice. Use a lot of sunscreen. Eat less. Move a lot. Those simple things help us fight against the aging process.
He also said mental attitude affects health (mindfulness, meditation all helpful). We need good restorative sleep as well. If we disrupt the NAD (an enzyme), then we age prematurely, because poor sleep disrupts the NAD.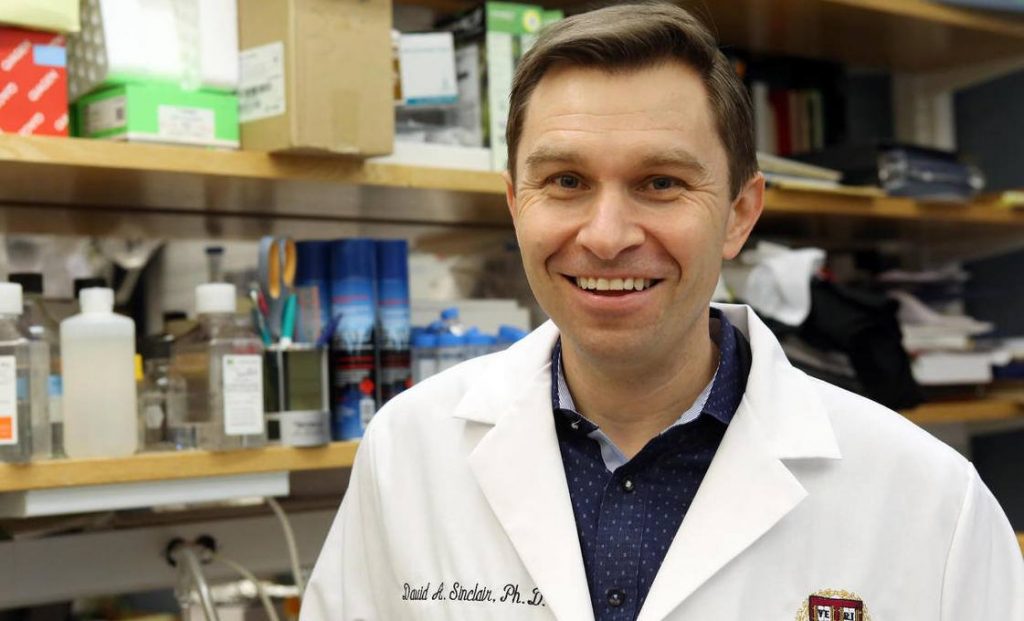 All fascinating research..
And, one of my faves who I recently interviewed on The Erica Diamond Podcast, is Dr. Laurie Betito.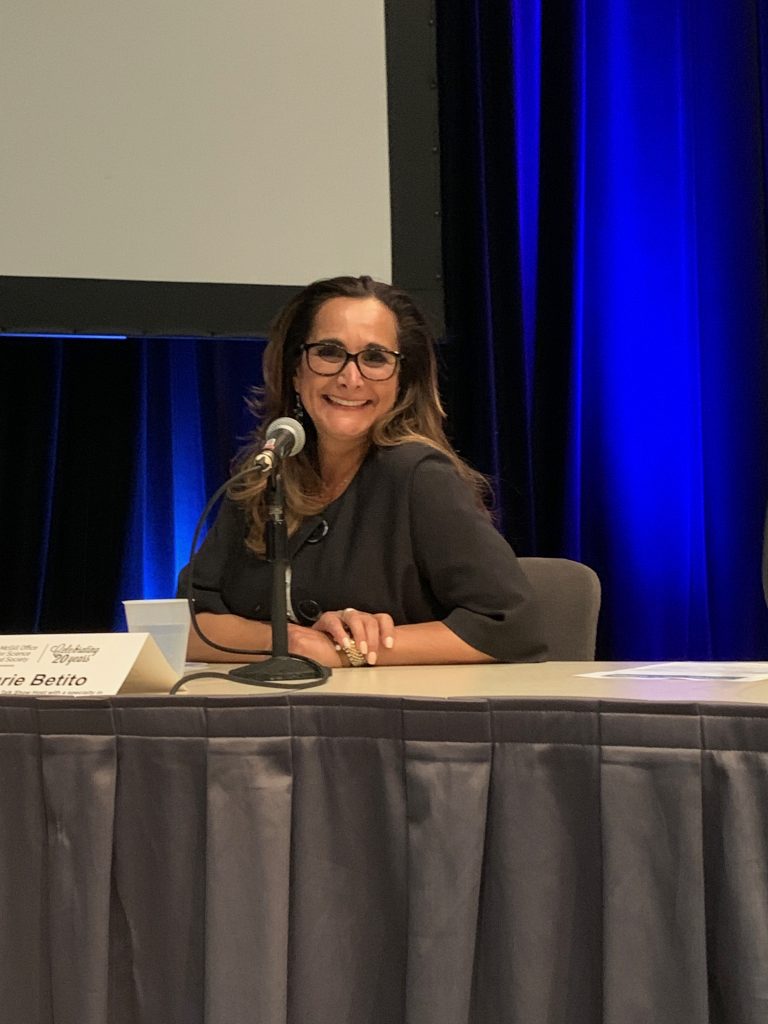 She told us that "Milf and Gilf" are top online searches – GILF standing for the acronym Grandmother I'd Like To F—. She said there is a new interest in older experienced women.
Can I get an AMEN? 😉
Alright people, that's enough sex and aging for a Friday.
Go and enjoy your weekend and make good memories.
Here's to great sex, and aging well,