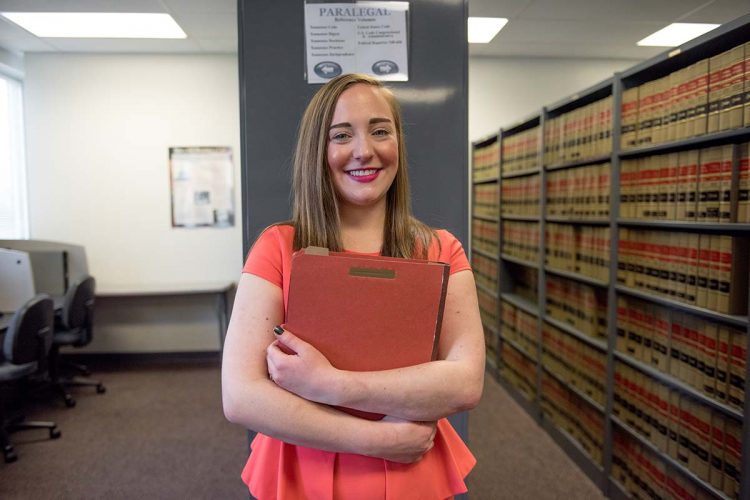 "I don't want to let anyone down, and I want to make sure that I can be that backbone for the family if they need me. When I went to school at a traditional four-year university, I had stadium seating classes, a lot of students. You didn't have that personal rapport with the professors. Here I spend hours upon hours with my instructors, just one-on-one time, and that's totally priceless to me. I love this school.
I was working a sales job downtown that I absolutely hated, and I realized that I needed to start a career. So I got online and did some research and my roommate was like, 'Hey, you'd make a great paralegal. You watch criminal justice shows all day long.' So I looked into it, and I found out that Brightwood College did have a good program. 
My husband has also been really supportive through the whole process. It's been a different change in our lifestyle. But he's really happy to see that I am doing what I enjoy and that I will have a career when I graduate." – CASSI KERWIN
Click here to read the rest of Cassi's Story.
What struck me when interviewing Cassi for my YouTube channel, was her true love of learning, and especially of her school, Brightwood College. I remember it being just like Cassi described when I was in college– stadium seating, feeling like a number, not often a strong peer/teacher connection or bond.
Don't get me wrong… I loved my university, and I am a proud graduate! But, if I were to go back to school today, I would probably opt for something smaller with a more hands-on program, like Brightwood College. Cassi made it clear that the real world is brought into the classroom there, and I love that. I love that theory is just one part of the curriculum, and the practical is so hugely emphasized and explored.
I especially love the support Cassi is receiving from the career development department on career planning for when she completes her degree. That kind of assistance is really invaluable whether you are changing careers, or just starting your career at any age.
Maybe you're reading this, and you're considering going back to school, or your child just starting school.
You've heard me say this before, and I will say it again. So many of us, based on life circumstances, have slid our career dreams under the rug because the timing didn't feel right, or we wanted to have a baby, or we didn't have enough time or resources, or we lacked clarity on which field we wanted to purse. We secretly want to explore that passion, but maybe we have suppressed those dreams instead of exploring them.
Well, going back to school to chase that dream career is a real, viable option for you.
And I want to show you how Cassi's school, Brightwood College can help with this. With campuses across the United States and online, it's never been easier to go back at school AT ANY AGE, and make it happen.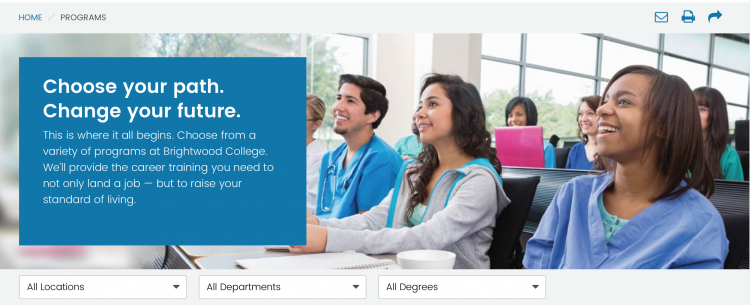 So, Why Cassi's Brightwood College?
Real-World Training
Brightwood keeps education relevant by employing instructors with real-world experience in the field, who bring their career backgrounds to the classroom. Their programs are continually assessed by faculty, staff and members of the business and education communities to help ensure that the curriculum aligns with students' career goals.
Professional Skill Building
Within the classroom, it is their mission not only to provide job training, but also to help students develop the professional skills, values, attitudes and strategies to enhance their potential for success on campus, in their careers and through life.

Professional Student Services
Brightwood College offers individualized career planning and assessments to help students craft the most effective employment search strategies. They also help students  write effective cover letters and resumes and sharpen their interviewing skills so they can make a favorable first impression with prospective employers. Brightwood also guides students in identifying job openings by using local newspaper classified ads and by searching the Internet.
Part-Time Jobs
At Brightwood, many students work part-time jobs, in addition to attending classes and pursuing their degree. For students who require assistance in securing part-time employment while attending classes, the Career Development department will make every effort to assist in the search.
To see all the program options and locations, click on the drop down menu.

Plus, financial aid may be available to you, if this all seems overwhelming. Please visit: https://www.brightwood.edu/paying-for-school/

If you are thinking of making your career dreams a reality, ask Brightwood College for more info: https://www.brightwood.edu/admissions/request-information/
If business, IT, nursing or legal studies are fields you've wanted to explore, I hope this post is that push off the fence you've been waiting for.
Sending you so much love,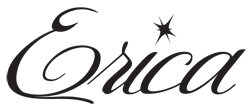 Disclosure: I am a proud paid partner of ECA. All opinions are my own.