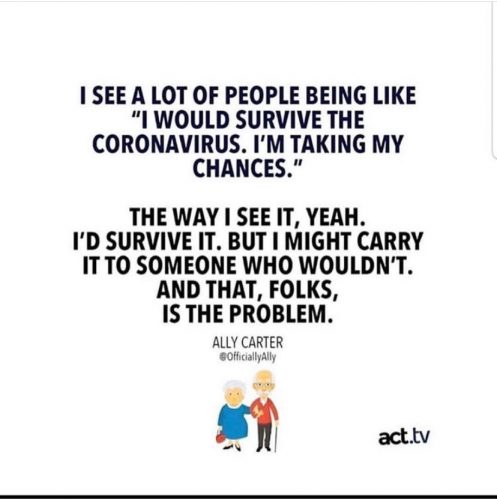 This should soak in
I bumped into my doctor yesterday coincidentally who explained to me why it's very important to be responsible and vigilant to prevent spread. Coronavirus is going to inevitably spread, but if it spreads too quickly, there won't be enough doctors and hospital beds and it could become a very grave situation. Buttt, if we can keep the spread as low and as slow as possible, people can get care and everything becomes more manageable.
Our school just got cancelled for two weeks. We're living in uncertain times. But I will remind you today as a life coach and yoga teacher, that while we don't have control over coronavirus, we do have control over our thoughts. A plan for Saturday night — it's a good idea tonight to close your phone, shut off the news, and give yourself a chance to read, or listen to music, or call a friend, or work on your side hustle. We need a chance to unplug from it each night. 
Immunity is your friend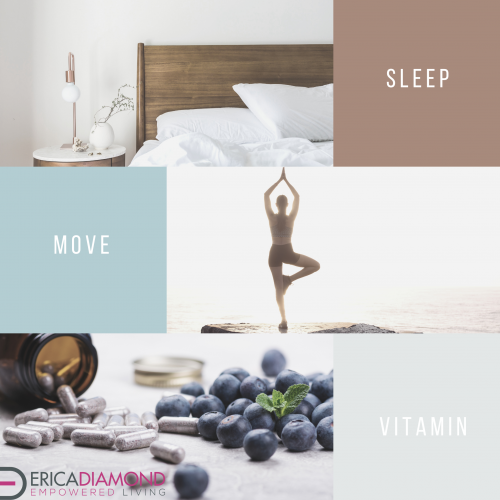 Immunity is your friend these days.
Three things everyone should be doing daily:
Focus on sleep. Sleep is an immune-boosting activity. Make sure you are getting restorative sleep at night.

 

Movement is important. Good lung function supports good immunity. Subscribe to a movement app today and move at home. Even if you are self-quarantining, get outside for fresh air every single day.
Vitamin health. My whole family is on a multivitamin and probiotic to support immunity. Add that to vitamins and minerals we're also getting in our food. It's paramount to support good nutrition now. Make sure you're eating well to stay well.
All these three also help your mental wellbeing. Be healthy. Stay calm. Enjoy your weekend.
A sad day for my family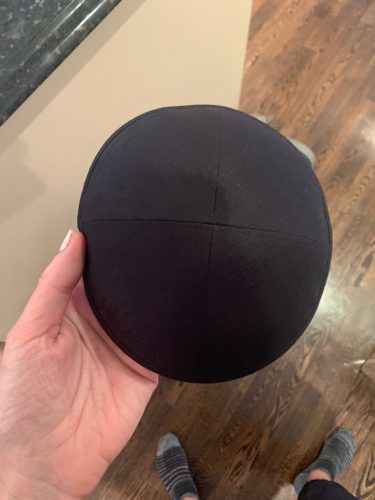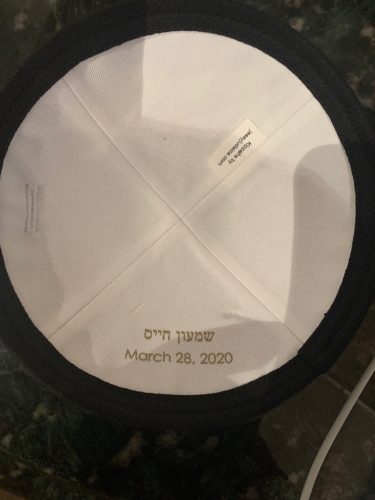 The irony, these arrived on my doorstep yesterday. ;(
And the sadness of having to send this out yesterday too: 
Dear family and friends,

It is with a lot of apprehension and sadness that we write this email. After careful thought, deliberation and consultation with our dear Rabbi J— this morning, we have decided that under these unstable conditions due to the Covid-19 virus, it is irresponsible of us to gather over 200 people (not to mention the dark cloud over the celebration), and we are therefore postponing the event and the celebrations associated to it. 

We realize that under these conditions it is more important to have you with us to celebrate our son's milestone in the appropriate head space, free of worry where we could all rejoice, eat well, enjoy a l'chaim, and dance the night away. 

We are doing this with a heavy heart, but with everyone's best interest in mind. This is not a cancellation, but merely a postponement. He understands (although disappointed), and is looking forward to celebrating his manhood with all of you once everyone is in better spirits, and it becomes safe to gather in large crowds.
Thinking also of other happy and celebratory events that are being cancelled due to what's happening around the globe. 
What If
We are living in a new reality for right now, which we all hope will end soon. My mom sent this to me, and amongst all the fear and confusion, there's this– a different perspective…
There is so much fear, and perhaps rightfully so, about COVID-19.
And, what if…
If we subscribe to the philosophy that life is always working out for us, that there is an intelligence far greater than humans at work…
That all is interconnected.  
What if…
the virus is here to help us? 
To reset.
To remember.
What is truly important.
Reconnecting with family and community.
Reducing travel so that the environment, the skies, the air, our lungs all get a break.
Parts of China are seeing blue sky and clouds for the first time in forever with the factories being shut down.
Working from home rather than commuting to work (less pollution, more personal time).
Reconnecting with family as there is more time at home.
An invitation to turn inwards — a deep meditation — rather than the usual extroverted going out to self-soothe.
To reconnect with self — what is really important to me?
A reset economically.  
The working poor.  The lack of healthcare access for over 30 million in the US.  The need for paid sick leave.  
How hard does one need to work to be able to live, to have a life outside of work?
And, washing our hands — how did that become a "new" thing that we needed to remember.  But, yes, we did. 
The presence of Grace for all.  
There is a shift underway in our society — what if it is one that is favorable for us?
What if this virus is an ally in our evolution? 
In our remembrance of what it means to be connected, humane, living a simpler life, to be less impactful/ more kind to our environment. 
An offering from my heart this morning.  Offered as another perspective.  Another way of relating to this virus, this unfolding, this evolution. 
It was time for a change, we all knew that.
And, change has arrived. 
What if…
– Gutpreet Gill