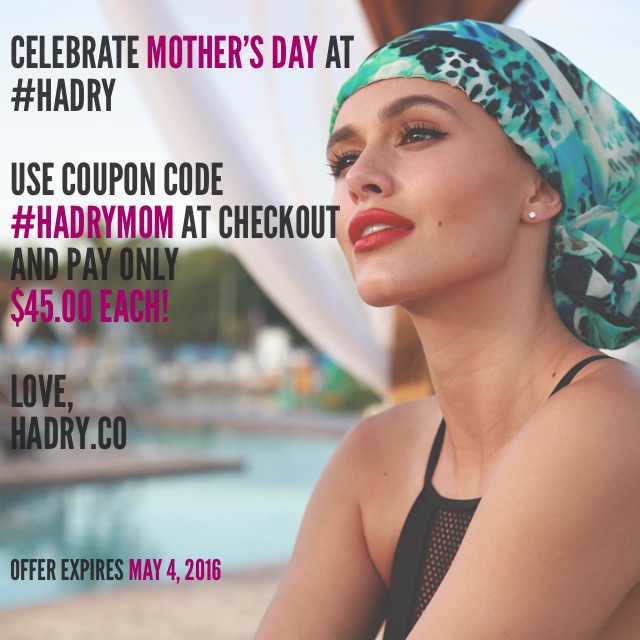 With Mother's Day around the corner (next weekend), I'm super excited to make the fun announcement above.
I have your Mother's Day gift giving covered– mothers, sisters, daughters, friends, we have the perfect gift to usher in summer at the PERFECT price!!
You asked, we answered. For a little bit at least… 😉 Till May 4th ONLY.
SHOP THE COLLECTION TODAY AT OVER 40% OFF: HADRY.CO/SHOP!
If you recall, back in November I showcased the beach fashion accessory invention I had been working on for two years.
If you missed that blog post, it went a little like this…
INTRODUCING #HADRY
HADRY is the ultimate fashion accessory to SPARE YOUR HAIR while in the sun and water.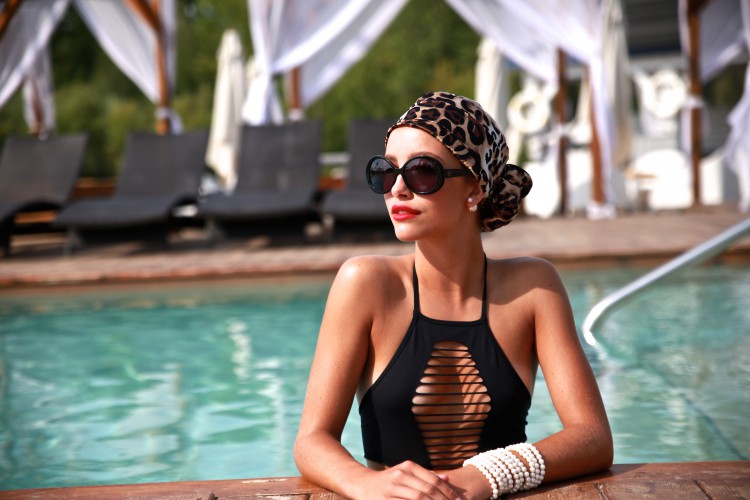 THE HADRY STORY
THE BEACHY DETAILS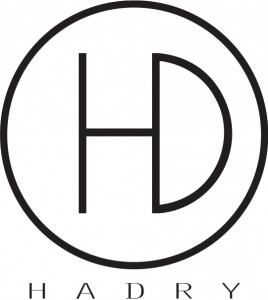 Under its trademark Humiloc™, HADRY uses an innovative fabric to protect hair from the elements. This fabric locks out the humidity, is breathable, and is also water resistant (while both keeping hair dry and protecting it from harmful UV rays). HADRY allows women to feel both sexy and stylish at the beach– the perfect marriage of GLAM and FUNCTIONALITY.
HADRY compliments the hottest swimsuit and cover-up looks of the season. Add HADRY to your beach fashion– have one, have four, in all different colors, patterns and styles from the HADRY collection, and throw them into your beach bag before you go! Tuck all your hair in while swimming for a more classic and sophisticated look, or leave your hair out for a more fun and chic appeal. Bad hair day? No worries!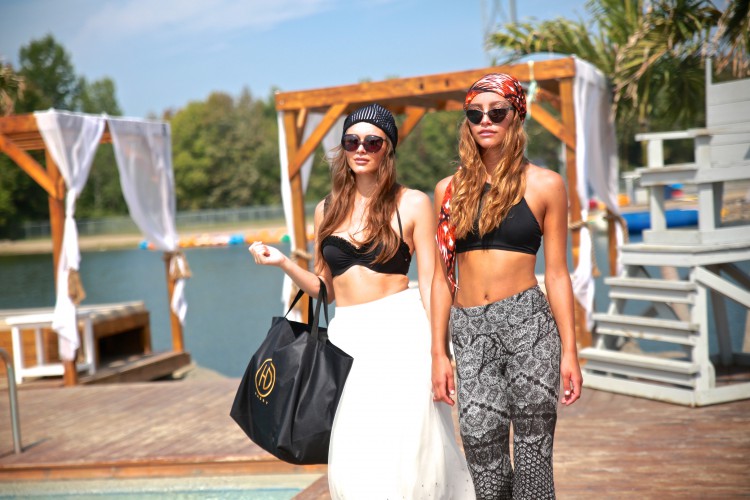 The inside of every HADRY is adorned with its signature HD print and the outside of every HADRY is enhanced with its signature gold HD logo.  The HADRY Scarf can tie into a long knot, a short knot, a bow, a braid, or wrap around. The HADRY Bun gives the sleek and elegant beach bun look. HADRY is also available in two sizes: Small/Medium (for short thin hair) and Large/X-Large (for longer thicker hair).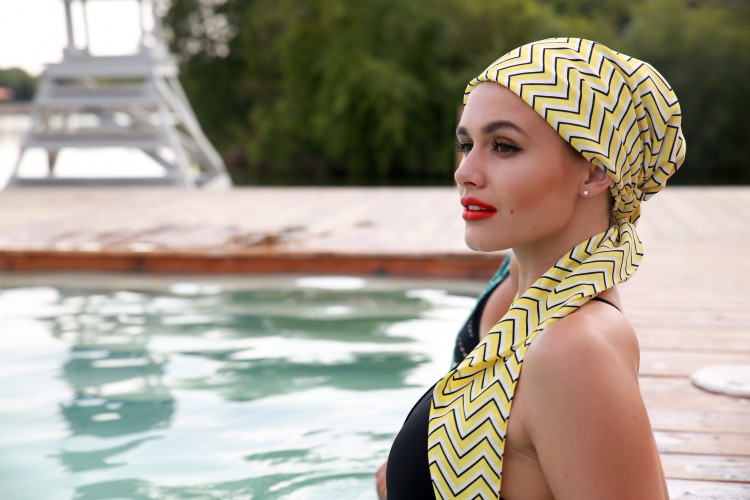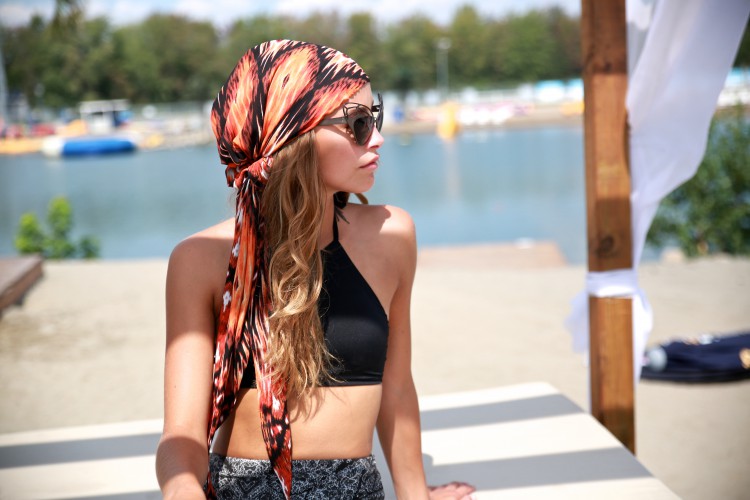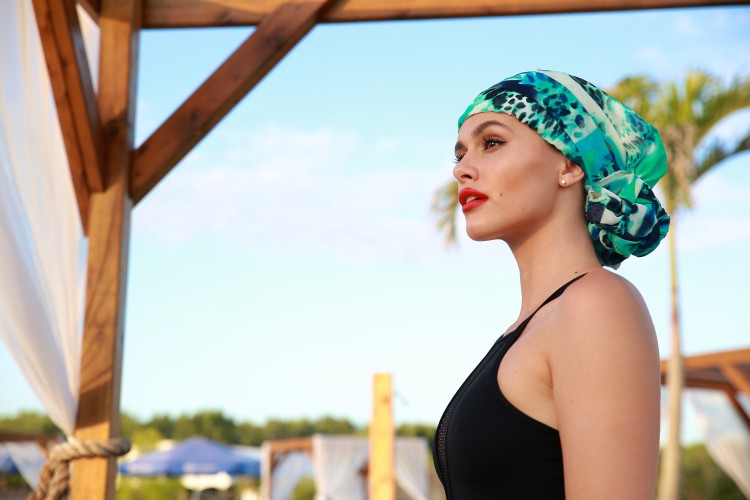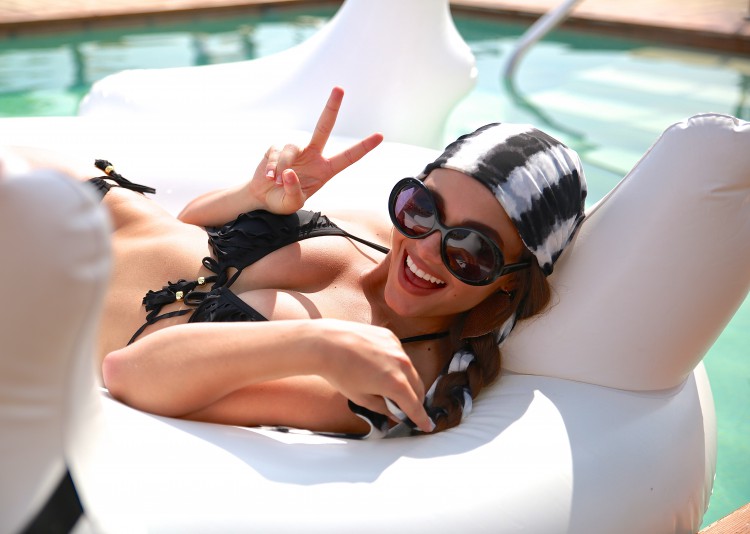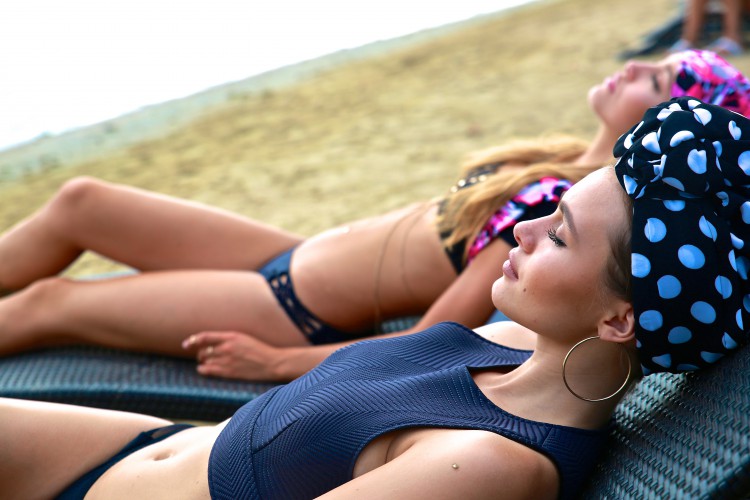 HADRY really makes THE PERFECT Mother's Day gift for moms of all ages- with your choice of the scarf or the bun, in any print (to appeal to younger or older moms), it's truly an awesome way to usher in the summer season for all women on May 8th. That is why we wanted to make it more affordable for this special occasion. It's $79.00, now almost half off until MAY 4th! Now THAT'S incredible!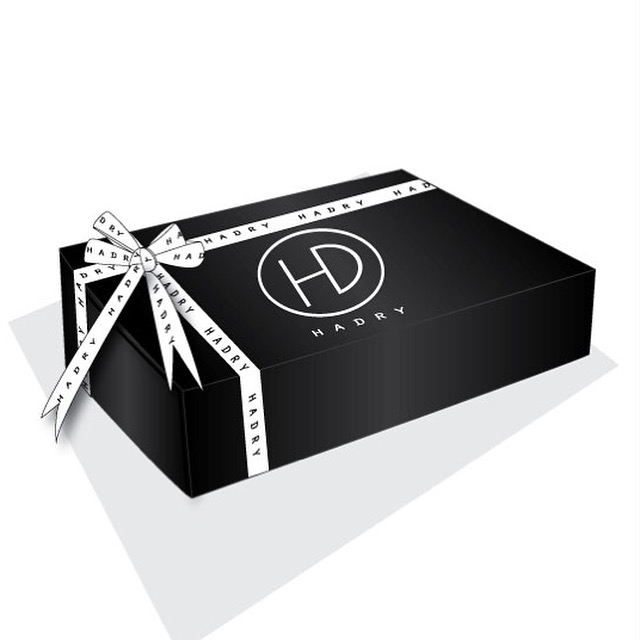 Shop today at HADRY.co/shop. We can't wait to spoil all the mommies out there!