This chart ran yesterday in The Globe And Mail. Someone at my gym snapped the photo for me and then emailed it. The article in the newspaper discussed just how costly this time of year is, and how "holiday gratuities have reached tipping points." I have to say yes, I completely agree! This time of year is very costly for everyone, and that can be a very scary thought.
If you're on the fence about what to tip or what holiday gift is appropriate to give to whom this holiday season, here are some guidelines and suggestions.
If it's not clear, there are more details below…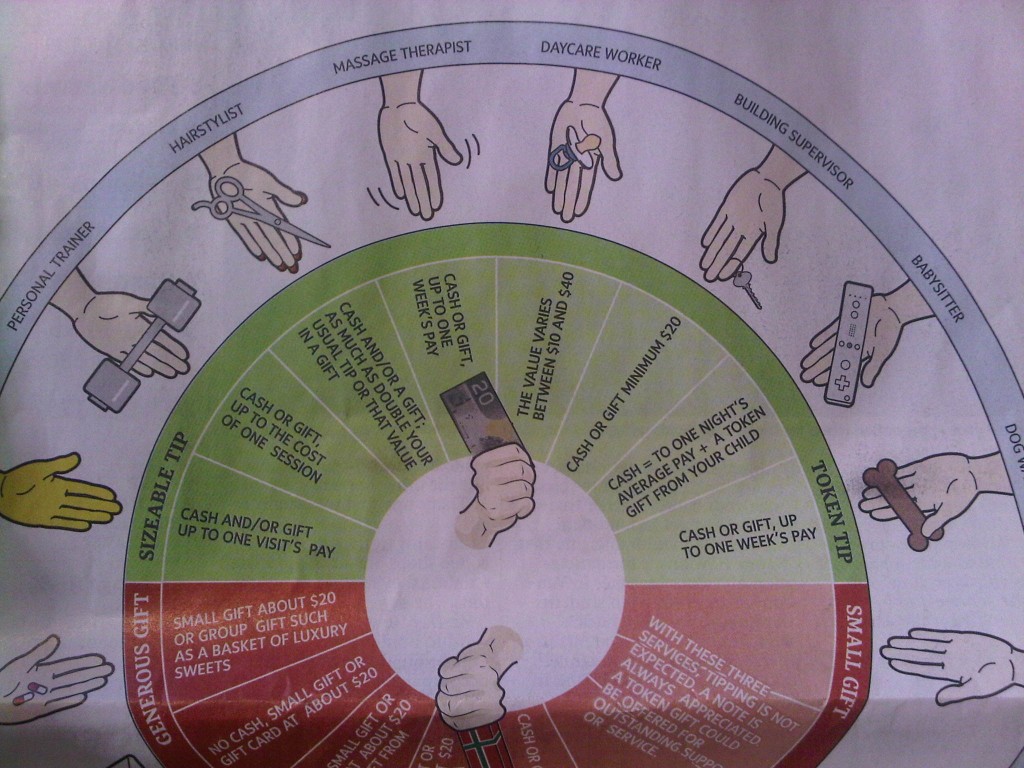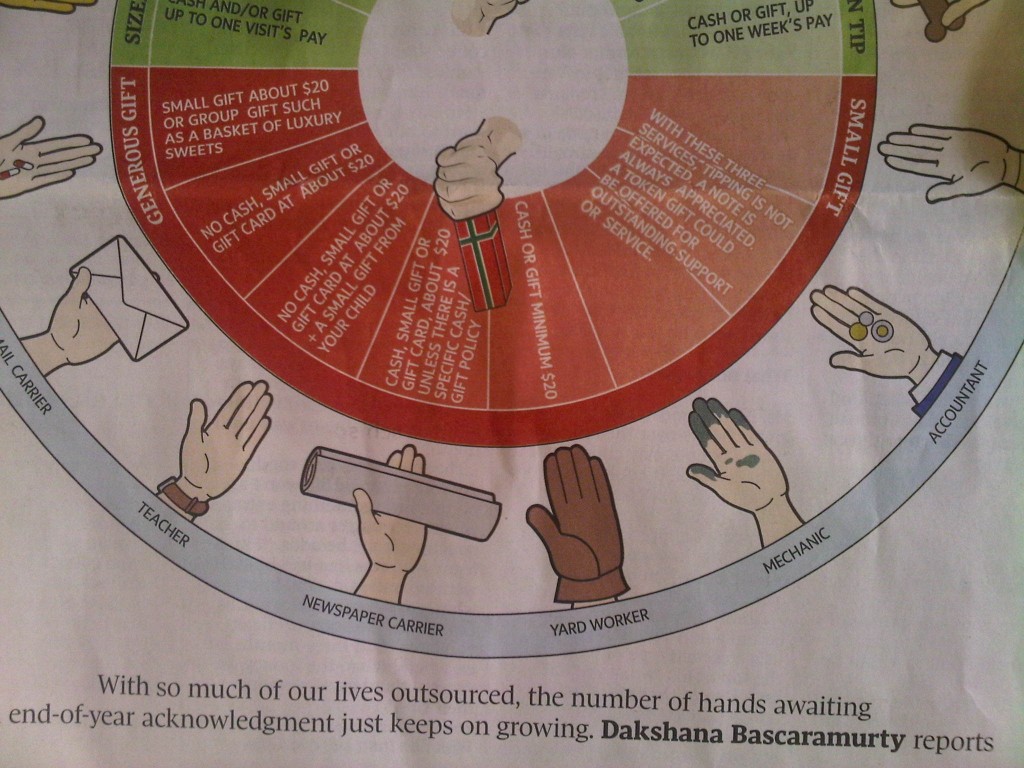 Below is a suggested holiday tipping guide. Experts and professions that often receive tips have offered guidelines for giving appropriately. Again, THESE ARE JUST GUIDELINES AND SUGGESTIONS. Take it all with a grain of salt.
Childcare, education

Baby sitter
One night's pay, plus a small gift from your child.
Full-time nanny
One week to one month of pay based on tenure, plus a small gift from your child.
Au pair
One week's pay, plus a small gift from your child.
Day care service
$25-70, plus a small gift from your child.
Teacher
$25-100. A gift certificate is always appropriate. If you know the teacher's hobbies or interests, then a gift certificate would be nice from the local movie theater, hobby shop, mall, fine restaurant or day spa. If you are unsure, ask your principal first.
Coaches, tutors, ballet instructors, music teachers
A small gift from your child.
Around the house

Maid
One week's pay. If you use a service and never know who is coming out, don't tip at all.
Gardener
$20-50
Garbage collector(s)
$15-30 each. Nowadays, however, many garbage collectors are really truck drivers who operate an arm that does all the work. If this is your situation, there is no need to tip.
On and about town

Country Club
Tipping at Christmas/holiday season is appropriate regardless of the club's tipping policy. $50 for your special waiters, locker-room personnel, front-desk employees and golf professionals. For headwaiters or special service, make it $100.
Parking attendants
$10-20 each
Driver/limousine service
$20-50 each – If this is your regular driver tip 20% of a month's bill.
Apartment services

Apartment building superintendent
$50-200. Tip less if you tip throughout the year.
Apartment Doorman/concierge
$10-80 or more each, depending upon building. Those who serve you more should get a bigger tip.
Apartment building handyman
$15-40 each
Apartment building elevator operators
$15-40 each
Personal care

Shampoo
$10
Manicurist/pedicurist
Cost of 1 session ($15 or more)
Hairdresser/stylist
Cost of 1 session ($15 or more)
Massage therapist
Cost of 1 session $15 or more
Personal trainer
$60-100 upon reaching goal, or cost of 1 session
Pet services

Dog groomer
1/4 – 1/2 cost of a session
Dog walker or sitter
1-2 week's usual pay
Deliverers, postal carriers

USPS Mail carrier
Non-cash gifts with value up to $20. This is for mail carriers that you know and see regularly.*
UPS – Regular driver
Has no formal policy. Drivers don't expect tips but can accept them.
FedEx
Not allowed to accept anything over the value of $75. No cash gifts accepted.
Newspaper carrier
Daily – $25 – 50, weekend – $10
Regular overnight delivery person
$10-30
*Civil servants are not allowed to receive cash tips. But if you wish to recognize your mail carrier, the U.S. Postal Service asks that your gratuity not exceed $20 in cash value.
(Via CNN Money)
And tell us, who do you tip and who do you leave out this time of year? Is it necessary? Do you do TIP or do you SKIP? Please share with our community.
xoxEDxox