"Self-care plays a significant role in keeping oneself physically and emotionally healthy. When self-care strategies are used, it increases a person's self-worth and self-esteem and allows them to feel more resilient when stressful situations occur."
I love today's post because self-care has developed a bad rap over the years. It's been minimized to spa days and martinis. And while we love those, I am on a mission to teach the difference between effective self-care and trendy self-care.
Self-care is surrounded with ambiguities, and it's important to learn what self-care is, and is not.
When you're on your journey learning how to prioritize effective self-care here, here are 8 myths to be mindful of.
Myth #1: I don't have time
By not carving out the time for self-care, we may find ourselves in a position of needing urgent care. As I teach my coaching clients, when you start looking at your hard boundaries (are you allowing people to take advantage of you and your time?), and how you schedule your days (are you tracking your time to ensure you're not wasting your time?), you will start restructuring your days for better results and actually reclaim your time. You will start to maximize moments like early mornings, and creating practices that will allow you to start your day energized and calm through self-care.
Myth #2: Self-care is selfish
Self-care is essential to affording us a life of less stress, more calm & greater happiness. Practicing self-care means taking the necessary steps to care for ourselves so that we can thrive in all our roles, both personally and professionally. Audre Lorde wrote, "Caring for myself is not self-indulgence, it is self-preservation and that is an act of political warfare." If you you interested in truly building a life of balance, harmony and well-being, you can book a FREE 15-minute discovery call with me. I can't wait to meet you.
Myth #3: Self-care is being a yogi
While it may make your friend feel calm and joyful, it doesn't mean this method works for you. While yoga may help your friend find balance, it does not mean yoga is bound to work for you. If yoga isn't your thing, it doesn't mean you can't practice effective self-care. If you are interesting in trying yoga, I have a beautiful little 10-minute yoga practice for everyone to boost wellness now.
Myth #4: I have to only do something healthy
If watching murder mysteries and reading romance novels make you happy, that's self-care too! I've coached a few women over the years, and here's what I've observed. It takes some women permission from their life coach (yah, me) to be okay with a little escapism as self-care. I remind them that after being alpha and productive all day, that a new kind of evening routine is worth experimenting with. My super smart girls know that a little escapism will do them quite well, I give them permission to do it guilt-free, and I am doing it for you today too. In fact, please check out an old post I wrote called Erica Diamond's Escape List.
Myth #5: I have to achieve and hustle at all costs
'Hustle culture' and 'Team no sleep' can eventually lead to feeling depleted, anxiety, loss of creativity, relationship struggles and more. Hustle culture thrives on stress and cortisol and places little value on rest. But here's a newsflash: an exhausted mind and body won't be able to function. It's not sustainable long-term.
Myth #6: It takes up a lot of time
You only need 20 minutes a day! We are all busy, but self-care does not require a massive time commitment to experience the incredible benefits. Tip – Instead of waiting to see if you have free time on your hands to sneak something in, add self-care time into your schedule and plan your day around it. The key is to make it a regular part of your routine instead of something you try and pencil in only if you have time.
Myth #7: It should feel like an obligation
Once you start experiencing the many benefits (see below), my guarantee is it won't feel like an obligation, rather you will look forward to it! Promise. Feel free to switch up your self-care methods to keep it enjoyable and doable.
Myth #8: Self-care is only for people struggling with their mental health
I'll leave this Infograph as the myth breaker. Hint: IT'S FOR ALL.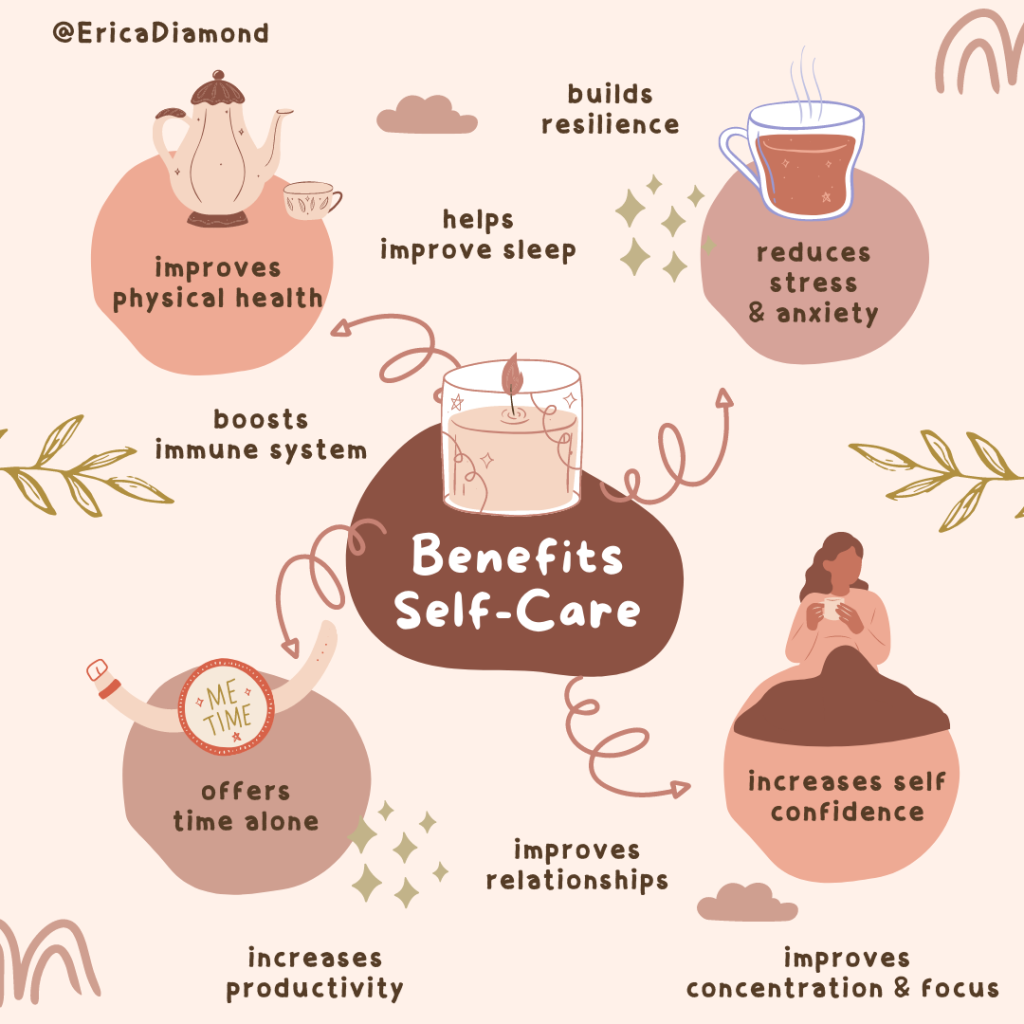 What is a myth you know about self-care? Share below.