Living an Empowered Life Filled With Love, Happiness & Su

ccess IS Absolutely 

Possible For You
Today is Day 7 of the Self Love and Self Care Symposium that I took part in as a Wellness Lifestyle Expert, and my session is today! Please set aside 30 minutes to an hour to hear from all new peeps today! 😉 It's easy to watch and listen from home, your laptop or computer, phone or tablet. You can access all of today's interviews immediately and they will be available for you to watch for 48 hours for free.
Erica Diamond
Creating Your Self-Care Regime

Watch or listen to this powerful conversation with change maker Erica Diamond and you'll discover:
The most common issues in women's wellness today
Why women in particular are great at putting themselves last
Why self care is so hard and how we can make it easier
How to

create new healthier thought patterns

The SELF CARE acronym that will change your life
An easy-to-implement Sunday night checklist to set your week up for success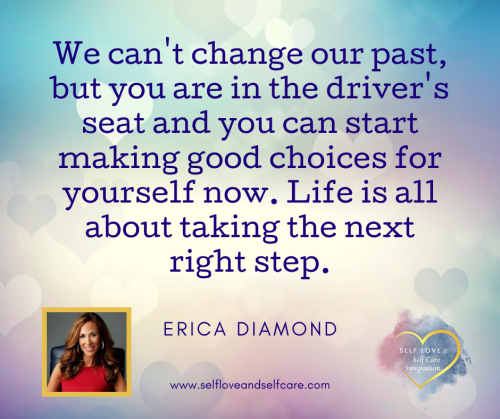 About the Self-Love and Self-Care Symposium 
We've brought together 36 of the world's most respected doctors, thought-leaders, bestselling authors, transformational leaders, experts & more to help you grow your self-love muscle, alter your neural pathways and unlock the inner guidance and power that's already inside of you.
During the Self Love and Self Care Symposium, our speakers and guests will be sharing the root causes of the lack of self love and how to release the fears and insecurities that have been keeping you from achieving your goals and making your dreams come true!
You'll discover strategies, tools & tips that you can apply right away to command the power you were born with and experience a life where you are free to be who you are and speak the truth about what's important to you.
We'll help you redefine what it means to be selfish … because it's NOT selfish to love and care for yourself.
During each session, our speakers will guide you through a process, meditation, or other tool to help you love and care for yourself in a more conscious way.
You'll also get the latest information to expand your mental, physical and spiritual awareness, which will help you feel more at peace in your body and allow you to become a better manifestor and co-creator of your life!
The leaders and experts at the Self Love and Self Care Symposium have collectively helped hundreds of thousands of people just like you to create more self love and self esteem, tap into your confidence, feel incredible in your own skin, develop your intuition, reclaim your health, feel happier and more energetic, and achieve your most fulfilling goals & dreams.
And, now, they would love to help you. We invite you to join us now!
Receive Free Tools & Resources from 36 Experts to Create Unconditional Self Love and Self Care Now!
And why not join the Facebook group to take part is some great conversations! Click here.

I hope you'll join me!
I wish you guys a great day of self-care. I just went for a 30-minute walk with a girlfriend and I OPENED MY WINDOWS! Spring is here. Sending you warm hugs.