By Sara Diamond
I started singing at a very young age.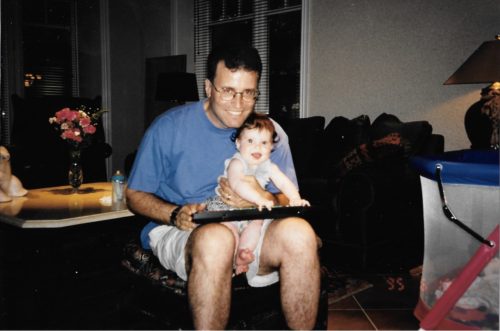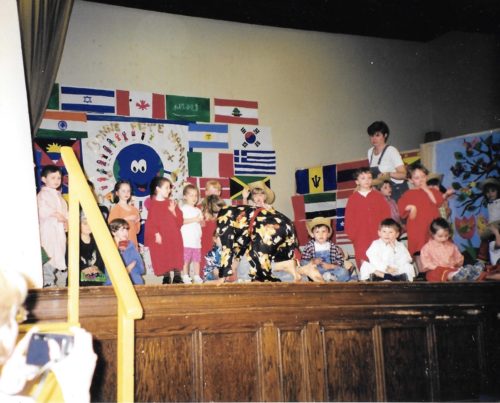 After singing for my mom's children's record label, KIDZUP, at around 4 (or 5) years old, my parents put me in singing lessons. Oddly enough, I actually stopped singing and switched to piano for a few months. Then I switched back to swinging.
At around 10, I decided that I wanted to pursue music professionally.
I submitted a Factor application with my singing coach, and soon after, I received an album grant AND a manager- Chris Burke Gaffney, who was then on the Factor board, and took me under his wing. I released my first co-written album at 12 years old, which was produced by Chris and a few other amazing people (albeit I probably wrote a total of one verse, if that, per song). It was a start!
At 13, I read The Secret. It changed my life. I was completely enamored with the concept. I even told my parents in September of 2008, "By next year, I'm going to be living in LA."  They laughed, and it surely went in one ear, out the other.
But I was convinced, and determined.
That January, 2009, my manger emailed me and told me that there was an audition for a replacement in the then-girl group, The Clique Girlz, in LA. I responded right away, and the following Thursday, I was on a flight to LA.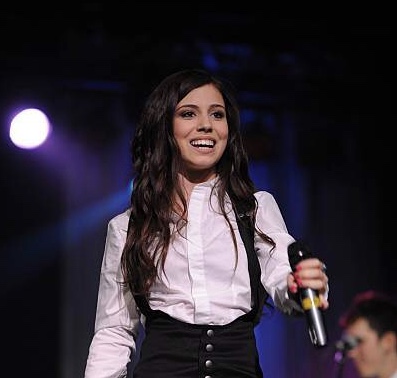 Fast forward a few days later, and I was the newest member of The Clique Girlz! There were 3 things that were on my mind in that particular moment:
1. The law of attraction was REAL.
2. I was about to be Miley Cyrus 2.0.
And 3. How was I going to finish my Science Fair project?
(#1 would be up for discussion for years to come, #2 was incorrect and #3 my school principal was awesome and let me skip it. I felt bad for my classmates but I was moving to LA so ha ha ha bye water hydro dam!)
The girl group lasted for about 3 months.
But we had met some cool people and decided to stay in LA for a bit. A bit turned into 18 months. And as a 14 year old girl from Montreal, the LA life was a lot to digest.
The following 15 months were filled with a ton of broken promises, rejections, and half-met dreams. I worked with some incredibly talented people, but nothing seemed to fix the growing feeling that I didn't belong. I had no friends, I was alone with my mom (who must have been going through the same emotions, to a certain extent, as me), my family and friends were 3000 miles away… and my mind started playing tricks on me.
I told myself that I was only in LA because I wanted to be famous, that if I actually loved singing, I could do it from home. Once a careless eater, after being in the girl group, I fell down the sad but real path of obsessively watching what I ate, constantly checking the scale, feeling the pressure that too many teens feel in the world of craved stardom.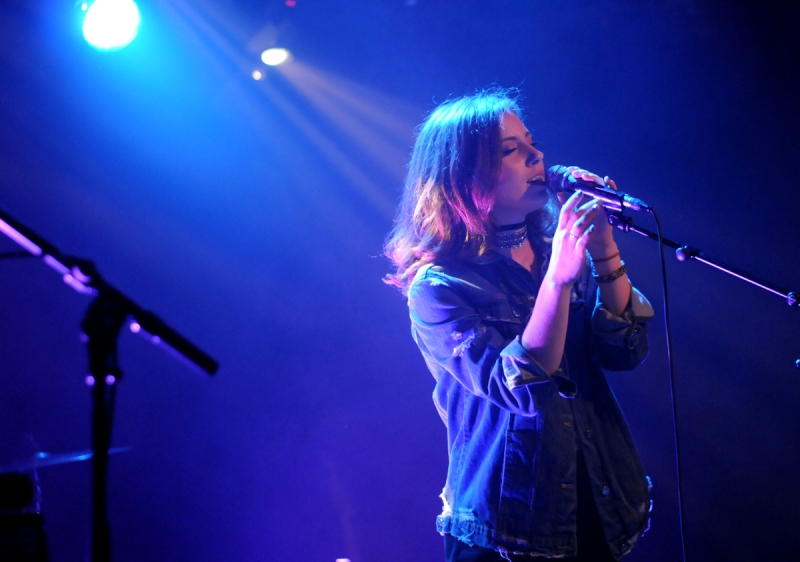 I would go back and read horrible comments that people had left about me when I was in, and when I had left the girl group. Comments like, "Sara was mad ugly and didn't really fit in the group," or "No one likes Sara! I'm so happy with her out. Ariel was SOOOO much better than her!! Ever since Ariel left they are dancing like sluts at their concerts! Watch episode 45! OMG!!!" Or "When Ariel was there, half my class liked them and when Sara came, no one likes them!! I HATE SARA!" Or better yet, "I hate Sara with a burning passion she is so ugly and she can't sing so she can go to hell."
I used to be fearless, determined, constantly optimistic… the opposite came to be.
I would temporarily fix fears and insecurities by shopping and eating. I went through bouts of depression. It got to the point where when I told my mom I wanted to go home, she knew we had to. I don't really know what would have happened had we stayed, to be honest.
Both my parents were going through some hard times financially, and my mom warned me that when we move back home, we would be in a small apartment and not our home that we had lived in previously. I really didn't care. I just needed to get home.
So, broken dreams in hand, we headed back to Montreal.
I told myself that if I ever wanted to sing again, to just remember what it felt like to be in LA, and then to force myself not to. So, I went back home for grade 10. And at this point, I was absolutely done with singing.
Fast forward a few years. I went into the science stream for Grade 11, then Commerce in CEGEP (Quebec pre-university system) and Management at McGill University. I experienced much of the normal teen angst: unrequited love, bouts of depression, fallouts with best friends, cliques.
During that time, however, I started dipping my toes back into music. I started writing with a wonderful producer and songwriter, Joel Campbell, and unfortunately probably played on his musical heart strings the way music had on mine- I kept telling him that I was writing just for fun. Every few months, I would fall out of touch with him, and tell him I wasn't ready to get back into music. It was only when I started singing the national anthem for the Montreal Canadiens, that I started to accept the fact that music was seeping back in, on a real, fundamental level.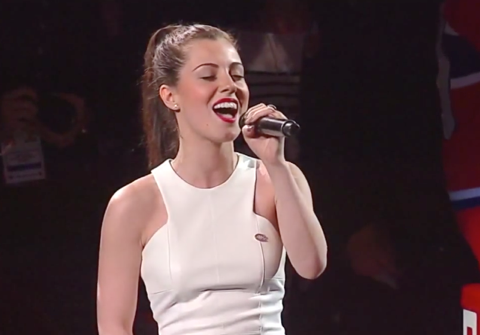 At 19, I decided that I wanted to give music another go, but this time for the "right" reasons. I knew what the LA life entailed. I also knew some of the reasons why I went into music the first time around. But I knew that this time, it would be different. This time it was because I had a deep love for music, and that I thought I could take a different type of stab at it.
I made the decision to drop out of McGill and take on music full time. I started to travel a lot and work with different industry people. I had felt myself struggling between giving my all to school and my all to music. I decided music mattered more to me.
We grow up in a world that celebrates societal success, and raises an eyebrow to inner growth that is often off the beaten path. Compound that with the small Jewish community that I grew up in where the path of least resistance is often the one chosen, I had to prove myself by staying "relevant" and "seen."
So for the next two years, I worked extremely hard, working towards a goal that I thought was both desirable and realistic- put out music and then automatically be "accepted" by the music community at large, as well as, realistically, by myself. I was still stuck in the cycle of 'creating to be accepted.' Accepted by my peers, accepted by music industry professionals, accepted by the "masses."
That, unfortunately, hadn't changed since LA.
This summer, after a period of quiet after two full years on-the-go, I had what I like to call a "breakdown and breakthrough." I started realizing that, in a way, I was falling into the same patterns that I found myself caught up in when I was in LA.
How many streams are the songs getting?
How many followers do I have?
Have I posted enough this week?
Will this be off-brand?
If I put something out that isn't accepted by peers, or the industry, or some people I respect, it that "bad" and will I have made a big mistake?
There was a LOT of self doubt, all stemming from this lack of control that I felt in basically every area of my life. I took some time away, to really think. I went into the deepest and darkest place of my life, so far. I jeopardized my relationship with my boyfriend, my friends, my family. I lost sight of the silver lining that I always had an eye on. I honestly wondered when I would wake up to the sun again.
But one day, I did.
I realized that life isn't about always being "positive" or "happy" or "successful." That's only looking at half the equation. We deprive ourselves from truly living by only looking at the good part of ourselves. We shy away from the ugly parts. I was finally able to embrace my inner struggle as beautiful– it was the part I had pushed away for so many years.
In accepting all my doubts, insecurities, fears, I was able to let them go and move past them. And since that time, I have embraced those dark moments. Because I realize that we're all human, and in letting myself be fully human, I can let myself be free. Which is actually a really nice way to feel.
And to circle back to the Law of Attraction – I still believe in it. We live in an energetic universe, and our thoughts have a tremendous amount of power over our lives and their outcomes. However, I believe that there's an important missing piece from the book–  I agree that yes, we all have infinite potential. But we are also human. And therefore life is going to be messy sometimes. It's in our attitude and how we choose to perceive the situation that make the biggest impact, not the pressure we put on ourselves to "always be happy and positive."
The process of finding my centre again led me in a completely different direction with my life. I have recently taken the time to be fully selfish. I have put myself first. And in realizing I had the ability to fulfill my own needs, mentally, physically, and spiritually, I have come to a place where my desire is to treat every moment like a gift.
I have realized that every encounter with someone is an encounter with another soul who too, has their own story, struggles, hopes, dreams, and that my words and actions have the ability to impact them, for good or for bad.
That has become my new focus, and through that, music has reemerged in a new way.
I now see music as a platform to share my truth, share emotions that are experienced by everyone, and ignite a sense of wonder in people that is rooted in all of us. I want to give as much as possible. Sing wherever possible. Contribute wherever and whenever possible.
Because now it isn't about if it fits my brand. It's about if it fits my values. If it is coming from a place of love.
This roller coaster has driven me to want to make more music, and share it with more people. Now, the most important aspects of my life are love, community, sustainability, and wonder.
Because life is a gift. And I want to appreciate it as much as I can.
—
ABOUT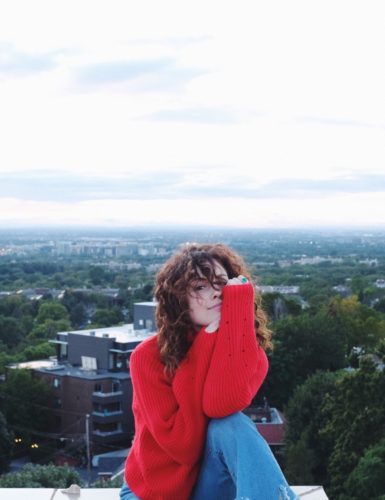 Sara Diamond is championing her honest story as an original independent artist. "Back To You," Sara's first single of 2017, is a song about enduring the "feel trip" of a fresh breakup, day after day. It's an emotional R&B-flavored pop song that pulls listeners right into the exact moment where a relationship went wrong. She wants to bring these moments to the surface, because the truth is that heartache is never that polished.
There was a time that even music had forsaken her too. A former child singer who sold millions of records and landed endorsement deals in various pop groups, Sara quickly became uneasy with the grind and little control she had over her trajectory.
But she was always born to be a performer. Now at 22 years old, Sara Diamond steps back into the arena with original music that she's written.
"This is about empowerment. It's throwing caution into the wind, and making myself write again and love again," says Sara.
Sara Diamond brims with wisdom and infectious pop instincts. Driven by a love for love, Sara Diamond is releasing songs in 2017 that explore the good and the ugly about falling for another human being.
"My mission is to help people believe in themselves. To take that risk, and follow that dream. I strive to make people feel the song in their hearts and acknowledge whatever it is that they're going through".