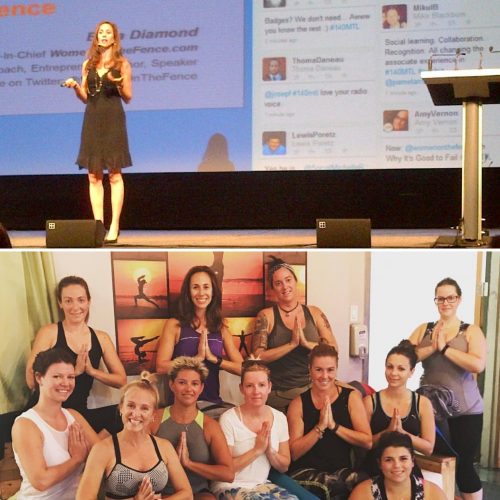 I opened the Erica Diamond store for Empowered Living a few weeks ago:
'Until further notice, Erica Diamond is offering a deeply-discounted, but highly-personalized holistic Virtual Wellness Experience'
We need pivot strategies as we enter these unchartered waters. I am thankful to the individuals and companies who have already responded to the offer and taken their personal and corporate wellbeing into their own hands.
Today I wanted to highlight the CORPORATE virtual wellness experience, available on the online store.
60-Minute Corporate Virtual Wellness Experience with Erica Diamond: 'Navigating the New Normal: Mastering Success Though Self-Care' (For Groups from Home)
I meet virtually with your corporate team via Zoom for a 45-minute corporate talk followed by a 15-minute de-stressing yoga flow (an all-levels class) — all in the comfort and safety of your team's homes.
THE DIAMOND EDGE: Mastering Happiness & Success Through Self-Care
Give your team the gift of a virtual corporate wellness experience that will improve the quality of their daily lives and their productivity while working from home. Sixty minutes to boost wellness and creativity, and learn practical self-care tips and strategies to enhance performance.
Your team will learn how to integrate mindfulness, yoga, and tangible self-care strategies into their daily lives that will take them forward to increase corporate productivity, morale, and an open-mindedness to pivot and welcome change.
Many employees are feeling stuck in 'survival mode'. Trying to stay healthy, care for their families, keep up with work, and somehow still find time for themselves. I truly believe this moment is calling us all forward to be the best versions of ourselves.
It is one of my life's missions to help as many people as I can unlock the true power of self-care and success… the kind that comes from creating routines, tools, and habits that allow you to access wellbeing and stability in any moment.
In this corporate team-building experience, your team members will learn to:
* Unlock their full potential
* Learn the latest cutting edge research on wellness and happiness. Hint: happiness really IS in our control
* Learn how to design a life that they want and then access the resources to build it for themselves
* Learn how to maximize efficiencies and time management while working from home
* Connect mind-body wellness tips and techniques to de-stress, feel calmer and happier in their everyday life (mindfulness, meditation, stress hacks, etc..)
* Transform mindset from fixed to growth
* Learn how to incorporate a daily self-care regime that they'll stick to
* Balance career and personal life with greater ease and less resistance
* Feel more creative, empowered and inspired
* Feel more confident and motivated to sell
* Apply tools and strategies from The Diamond Edge to your everyday life
This 60-minute corporate virtual wellness experience will leave your team feeling empowered, recharged, connected and motivated.
All talks/keynotes are always customized for the audience, so nothing feels generic. Whether association, corporation, non-profit, conference, the message is always relevant and resonating for the audience.
If you feel that this would be supportive for your team, please click the button to claim your corporate experience session with Erica today.
NOTE: If you're in Quebec, this corporate wellness experience falls under PACME and you can be reimbursed $25 per employee that attends on Zoom.