Interview with Jenna Herbut, Founder of The Make It Show and author of Make It Happen: The Creative Entrepreneur's Guide to Transforming Your Dreams Into Reality
—
Tell us about your inspiration for Make It Happen.
I wanted to make it easier for people to design and create their own reality. There's a lot of talk about making your dreams come true, but as glorious as this idea is, I personally didn't feel there were enough examples of women who've actually done it. After many battles with my inner critic, I decided it was time for me to take a stand and take the next step in my entrepreneurial journey.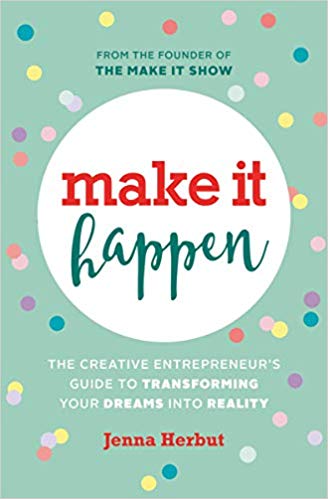 I am where I am today because of women like Oprah, Marie Forleo and Sara Blakely. Their careers are a few of the extraordinary examples of how life can change form when you start to follow the signs and think differently.
You talk about this impulse in Make It Happen as well. What is the significance of feeling an impulse to do something?
I've always paid close attention to those little impulses of life. When something isn't happening and there appears to be a lot of obstacles, I try my best to see the lesson in it. I'm by no means perfect at this, but I try to practice being open to a new possibility instead of banging my head against the desk.
On the flip side, when things flow, I reflect on why and try to expand that positive energy to other aspect of my life. I do really think things happen for a reason, no matter how challenging, unfair and messed up it might seem at the time. When you can't control the situation, you can only change how you react to it.
How did you—as a successful entrepreneur and founder of Make It shows—"make it happen" yourself? What was your journey from idea to success?
I struggled, wobbled and made a ton of mistakes on my journey to success! But, as many wrong turns as I made (and continue to make today), I began to live by a mantra: trust and surrender. By leaning into the process and trusting that even the darkest days will eventually turn bright, I learned to let go of things like specific outcomes and hard-set plans. I learned to embrace levity, fun and joy as key aspects of business. At first, it felt counterproductive because I had so much to do, but then I realized that it wasn't just about how hard I worked.
People tend to take life way too seriously. They think fighting to get what they want in life is going to be a hard and miserable process, so that becomes their reality. I'm not saying I had a massive smile on my face when I wrote this book the entire time (that would be scary and unnatural) but I've learned to infuse fun and levity as much as possible. We don't get to decide what happens to us in life a lot of the time, but we do get to decide how we respond to it.
Softening ourselves, instead of steeling up, is usually a good way to do this. When someone is being frustrating or counterproductive, remember they are likely just doing the best they can with the information they have… just like you are. This doesn't mean you have to accept negativity from people. There's always a better way to handle a sticky situation. Having fun, being playful, and laughing feel good, and when you feel good, you'll attract more positive things into your life. This might sound too good to be true, but if you practice it as much as possible, it won't be long until you see results. I still struggle with stress, but when I remember to relax and lean into life, magic always happens.
What do you know now that you wish you knew then?
Nothing and everything! My story wouldn't be nearly as juicy if I didn't bang headfirst into as many walls as I did at the beginning. I'm a product of my wins and my losses. If I could know anything then that I know now, my life would be completely different and I might not have felt inspired to go as far as I have with the Make It shows and Make It Happen.
What are some of your favorite tips from other entrepreneurs that you feature in the book?
My favorite quote is from Tony Robbins: "To claim the island you have to burn the boats." These days, there's such an incredible amount of pressure to have a perfectly balanced life. Picture perfect Instagram feeds make me cringe because life just isn't like that. I have to admit something: I don't think people achieve success by being completely balanced or perfect.
I've been able to get where I have because when I want something, I don't give myself an out. For example, by committing to writing my book, I missed out on some things in life that were only going to happen if I didn't write the book. Instead of allowing myself to fall into the trap of FOMO (or the "Fear of Missing Out"), I embraced having a somewhat wonky existence for a while.
As far as the people featured in the book, I love what Rachael Hatala from Laughing Sparrow's words: "Don't stop in the middle just because it's hard. You're usually closer to the end than the beginning, so keep going." I've found this to be so true in my life and felt it many times. I also love what Dan Emery said about "Falling in love with finishing." So many people never make it happen because they just can't seem cross that finish line. If you change your relationship with finishing, it will absolutely change everything else.
Do you believe you experienced different barriers to business success based on your gender? To what extent does Make It Happen support primarily female entrepreneurs?
I believe being a female entrepreneur (like many things) has pros and cons. I am really proud to say is that Make It has been an incredible incubator for female entrepreneurs to rise up! I've heard countless stories of badass ladies who've grown their businesses to a point where their husbands have quit their own full-time jobs to work for them. It warms my heart to hear these stories because it shows that the gender divide continues to close.
In the description of the book you mention putting it 'all on the line' to make a vision a reality. What is it about this "all in" approach that you believe breeds further success?
If you don't fully believe in yourself, no one else will. It's up to you (and only you) how much energy and focus you put into your vision. If you're not performing at the level of HELL YES, it won't happen. You have to dive in, and as Tony Robbins said, "burn the boats."
What resources would you recommend to up and coming or tentative entrepreneurs in addition to your book?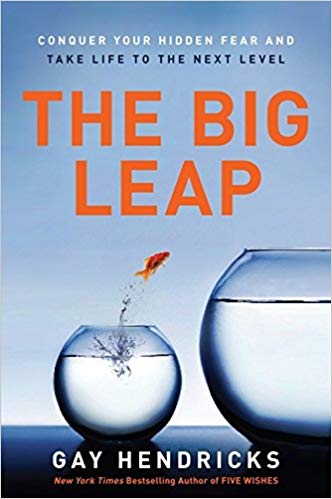 The Big Leap by Gay Hendricks is one of my all-time favourite books. My former coach Marie Forleo recommended I read it because it drastically changed her life, and it's still one of the best gifts I've ever received. For people seeking the bullet points, I absolutely love readitfor.me because it summarizes some of the best business books in 10 min videos. My dear friend Chris Guillebeau has also written some amazing books for entrepreneurs that I highly recommend.
What's next for you?
As challenging, arduous and frustrating writing Make It Happen was, I've already started working on my next book! It's about getting to the next level of entrepreneurship through embracing fun, positivity, and levity. Less push, more pull. I'm also creating a video podcast called Fancy Animals where I talk about how ridiculous being a human can be.
—
About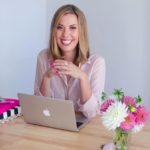 JENNA HERBUT is the creator of the Booty Belt, which sold into 120 boutiques all over Canada, the United States, and Japan and was featured in Flare, Elle Canada, LouLou, and on CityLine, CTV, and Global News. After touring as a vendor in craft shows and festivals across the country, Herbut founded and promoted her own fair, Make It, which quickly expanded to a bi-annual, three-city event. Make It has become a well-known community for both new and established makers, and boasts 100,000+ shoppers yearly. Since the inception of the Make It fair, Herbut has expanded her business to include MakeItTV and Make It University, which distribute online learning resources to new entrepreneurs and makers.
—
If you have any questions for comments for Jenna, she will be reading! Happy 'almost' Friday!