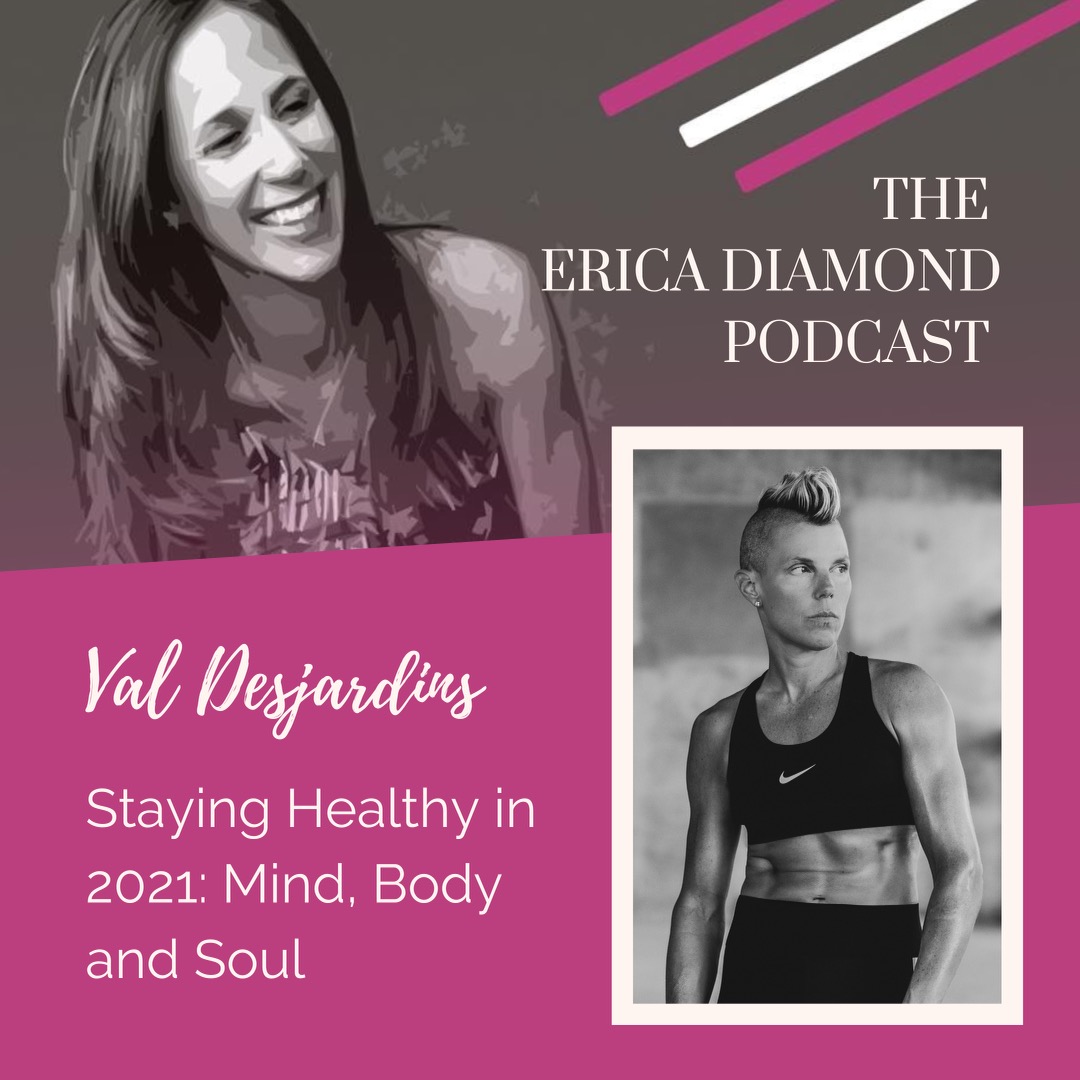 Episode Summary
Welcome back to the Erica Diamond Podcast. Between COVID, and creating my new online course Busy To Bliss, it has all has kept me away for far too long.
I'm so happy to be back with you guys!
And as I have come to teach over the years, although prioritizing self-care and health may seem like common sense, it's often the first thing to go when we find ourselves is challenging situations, especially during a pandemic.
That's why I'm so thrilled to have Val Desjardins on today's episode. She's here to inspire us to get ourselves back on our to-do lists and care for our mind, body and soul.
Before we went on lockdown, Val was also one of my coaches at her gym, kicking my ass for 60 hard minutes, which then let me reap the benefits and feel the afterglow of all that hard work.
In This Episode
Take me back to the beginning. We know you as Pump Fitness MTL, but I feel like I remember night club owner somewhere in your past? Tell us about that, and how you found fitness.
You're an LGBTQ advocate, married to your amazing wife Jen (also in health and fitness), with your beautiful family and daughter Brooklyn. Talk to me what it was like growing up a gay woman in Montreal. As a society, we weren't nearly as progressive back then as we are today— gay marriage is legal in Quebec and thank goodness for our world finally embracing that love is love.
Let's get into fitness! I wanna jump right in. First, — your body, your discipline, your regiment. We have to talk about that first. Not your clients' – please tell us about you! Tell me your secret to DISCIPLINE. Because that's the hardest part for most people – it to stay consistent.
Talk to be about this stat we often hear. It's 80% food and 20% exercise to keep our bodies fit and in shape. Do you really believe this?
Which leads me to, anyone can work out for an hour. It's the other 23 hours that helps determine success too. Can you speak to that?
I'm going to ask you especially during COVID when we're at home and not in gyms (depending of course where you live), what 5 quick exercises you would do on a deserted island with no equipment!
What are 3 things you can't live without.
What are 3 things we should all give up (I'm expecting soda to be one of them?)
How have you adapted during COVID? I know you followed the digital trend, but you also have your new space, The Studio MTL, which I can't wait to check out when we can! I know that I miss teaching my yoga students in person so much, it hurts. Zoom doesn't convert for me the way live human interaction does, especially for yoga. How has it been for you?
How do you feel about cardio vs strength training… what balance is right? Is it ok to just do cardio?
If someone is listening and they haven't made moving their body a priority, where can they start? How do they ease into a life of health and wellbeing?
What do you do to relax?
When are you at your happiest?
When are you at your most vulnerable
What would you tell your younger self?
Favorite book or podcast? What are you reading and listening to these days?
And finally, I ask this one a lot: What's still on your bucket list?
About Val Desjardins
Val Desjardins, also known as PUMP Fitness MTL, has devoted the bulk of her career to both creating and embracing an all-encompassing wellness approach. Her 20 years of experience as an athlete, coach, and entrepreneur have greatly contributed to the success of her own brand and to the launch of both her physical and digital spaces in the wellness industry. She is the owner of The Studio MTL, located in Westmount, QC, and, over the last year, she has also launched her own platform, the PUMP Digital Studio.
Val's distinctive PUMP training method, which combines individualized cardio, resistance work and mat pilates, has become infamous and has attracted clients that include celebrities like Jennifer Aniston, Michelle Pfeiffer and Coeur de Pirate. Ultimately, her approach is about empowering people to embrace a mindful lifestyle which she firmly believes is the path to wellness on all levels.
Links
Learn More about Your Host
Teaching Empowered Living, Erica Diamond is a leading Women's Expert in Lifestyle, Wellness and Empowerment. A Certified Life Coach and Certified Yoga Instructor, Erica is the Founder and Editor-In-Chief of the Award-Winning Women's Lifestyle Platform EricaDiamond.com® (previously WomenOnTheFence.com®), Weekly Lifestyle and Parenting Correspondent on Global TV, Award-Winning Entrepreneur, Keynote Speaker, Spokesperson, and Author of the women's entrepreneurial book, 99 Things Women Wish They Knew Before Starting Their Own Business. Erica founded the Global Get Off The Fence Movement inspiring people worldwide to get off the fence, get unstuck and thrive, and launched The Erica Diamond Podcast in summer 2019 to spotlight trailblazers and change makers around the world.
Erica Diamond has been named to the coveted list of The Top 20 Women in Canada as well as FORBES Magazine's Top 100 Sites for Women and FORBES 25 Most Influential Women In Entrepreneurship on Twitter. Erica Diamond was the Spokesperson for National Entrepreneurship Day and is a Huffington Post contributor.
To learn more about Erica Diamond, visit her website EricaDiamond.com
Don't forget to SIGN UP for Erica's newsletter and tips:
If you liked this, then listen to the podcast episode for even more. And don't forget to subscribe to the show!